Kylie Sends Love To WA Couple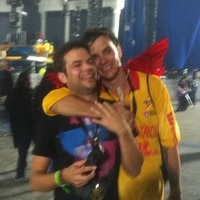 Update 12.15pm June 23, 2011
Kylie Minogue has sent her best wishes to a WA couple after they were engaged onstage at the Kylie Concert last night.
'Wish Scott and Ben much joy, love and happiness and all the very best for their future together!' Minogue told OUTinPerth just before boarding her flight to Singapore for the next leg of her tour.
***
In front of a full house at the Burswood Dome in Perth Kylie Minogue's Aphrodite Les Folies show came to sudden spontaneous halt when Kylie invited a gay couple on stage for a marriage proposal.
Ben McHardy took his boyfriend Scott Goodhill to Kylie Minogue's Aphrodite Les Folies Show at the Burswood Dome. They had scored some of the splash zone tickets that put them right in the middle of the action in the centre of the show's massive stage and they dressed up in amazing costumes. Tonight they were celebrating their ninth anniversary.
During the show Kylie stopped and took a request from the audience, a stripped back version of The Locomotion was performed as a sing-a-long with the audience. As Kylie bantered with the audience members Ben managed to get Kylie's attention and after a short discussion was invited on stage where he got down and bended knee and asked his partner Scott for his hand in marriage.
Speaking on stage with Kylie, Scott highlighted that the pair were both country boys, Scott from Kalgoorlie and Ben from Broome and that their parents were also in the house tonight.
Following the unexpected proposal Kylie encouraged the audience to 'wish the couple all the best' and described the moment as, 'an honour and a privilege'. Before joking with the audience, 'Can I just sit and weep, just for a minute? You don't really expect me to just crash back into the show!'
Graeme Watson