Leading Lady: Miriam Margolyes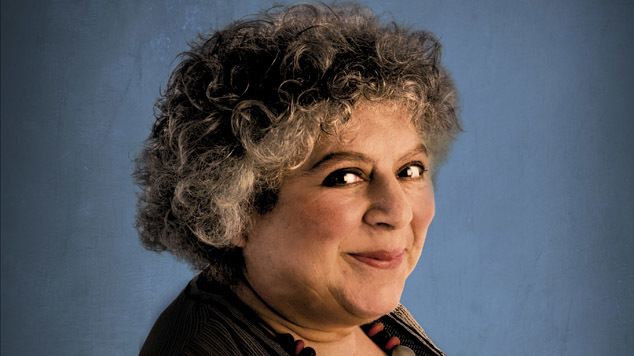 Miriam Margolyes is many things: a star of stage and screen, an Officer of the Order of the British Empire for her services to drama, and as of 2013, an Australian citizen.
Many will be familiar with her as Professor Sprout in the 'Harry Potter' or Aunt Prudence on 'Miss Fisher's Murder Mysteries'.
I caught up with a very high-spirited Margolyes over the phone on the third day of rehearsals for her upcoming show, 'The Importance of Being Miriam'.
"It's fairly early days but it's great fun and I'm enjoying it. I'm scared, of course, as I always am when I'm starting a new show but you know, it's fun." she said.
For the show, Margolyes is reuniting with pianist John Martin, who she worked with for her widely popular production 'Dickens' Women'. They are being directed by Peter Adams, who has also devised shows for Professor Brian Cox and David Attenborough. Margolyes assured me that the team were having a grand time in rehearsals, and that most of the team were gay, excluding Martin.
"I am, I hope, speaking to a gay magazine, otherwise it's a bit irrelevant!" she laughed. "Funny thing is, you sound gay. I don't know if you know that… I can't explain what it is. I don't. I don't sound gay, you do."
Margolyes has long been open about her sexuality, in fact it was her partner who originally compelled her to come to Australia. I shared with Margolyes that although I sound gay I'm not sure whether or not I look especially gay. She seemed to relate.
"Well I'm so old now that it's kind of irrelevant [Laughs] I'm trying to think what I am if I have to describe myself in gay terms, and apart from just being an old bag, I don't know what I would say. I don't know- because I don't think I'm terribly butch, but on the other hand I'm not terribly femme either, I think I'm in the middle, like you are." she turned to her fellows in the rehearsal room. "What do you think I am? Am I a butch gay? They say no." she laughed.
In 'The Importance of Being Miriam' Margolyes will take on some iconic characters including Oscar Wilde's Lacy Bracknell and Jane Austen's Lady Catherine de Bourgh as well as including her own "dirty stories". Margolyes was inspired to do so after an appearance on 'The Graham Norton Show'. "For some reason I began talking about various sexual encounters that I'd had, which, in a lady of 73, it could be regarded as slightly distasteful." she laughed. As always, her priority is entertainment. "I like making people laugh and because I think sex is funny, certainly the sex that I've had is funny, I enjoy telling people about it and seeing them laugh."
There are also some Australian influences. Margolyes' partner of 47 years is Australian, making the country a big part of her life long before becoming a citizen two years ago, an experiences which she says "My enjoyment is enhanced by learning about a new country and all the new influences that that will bring. I think Australia is a remarkable place that's still in transition, that's the wonderful thing. It hasn't stopped being Australia, it's developing and all sorts of things are happening. Hopefully there'll be a change of government. [Laughs]"
Also working on the show is costume designer Marion Boyce, who Margolyes worked with in ABC's 'Miss Fisher's Murder Mysteries'. "I was thrilled when she said yes. I don't normally enjoy television particularly but I have enjoyed 'Miss Fisher's Murder Mysteries' very much. Luckily the ABC now realise what a jewel they have, and there will be more."
'Miss Fisher's Murder Mysteries' gained a cult following overseas, prompting the series to gain more acclaim locally. The reluctance to embrace local content is something Margolyes said she would like to see change. "I think that's one of the things that I would legislate. That you must have more Australian content on television, and much less American and British content."
Before Margolyes returned to rehearsal, she imparted some wisdom about being openly gay in the public eye. "I don't know what I gain from being open. I think I gain the comfort of not having to hide. I wouldn't like to have to hide. I don't think that it is wise, always, to tell everybody that you're gay. It depends who you tell. From my own point of view, I feel comfortable and I just always have told people who I am and what my sexuality is. If they don't like it, tough shit."
'The Importance of Being Miriam' is at the State Theatre Centre April 7th-11th. Tickets available from
www.beingmiriam.com.au
Sophie Joske