Leederville lights up for annual carnival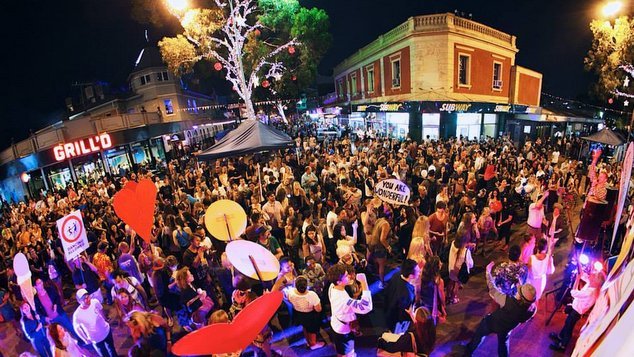 The streets of Leederville will be aglow this Sunday for the annual Light Up Leederville Carnival.
The free event will see the hub of Leederville transform into a village-style festival with food and drinks from local vendors, entertainment and a bunch of special treats for all ages – including a 3 metre tall dancing marshmallow man!
City of Vincent Mayor John Carey will commence the light-up ceremony at 7:30pm, along with festival-goers, who are encouraged to bring torches and lights of their own, to celebrate the spirit of the Leederville community. This year, the festival will be lit with renewable energy – with all stages and vendors to be powered by solar, wind, pedal and recycled energy sources.
Music and entertainment will be spread across three awesome stages, with performances from North Perth Brazilian Samba, Button Ups, Ben Taaffe, Charlie Bucket, and Fireworks will be launched from 7:30 at the Synergy Power Play stage.
Other entertainment throughout the day includes a live art performance from Secret Walls x Australia, a dedicated children's area at Kidsville and specials from surrounding vendors.
The Light Up Leederville Carnival is this Sunday 6th December, 12pm – 9pm. For more information and to see the full schedule, visit www.leedervillecarnival.com.au
Photo:- Facebook