Liberal Party Vice President says Yiannopoulos just an 'entertainer'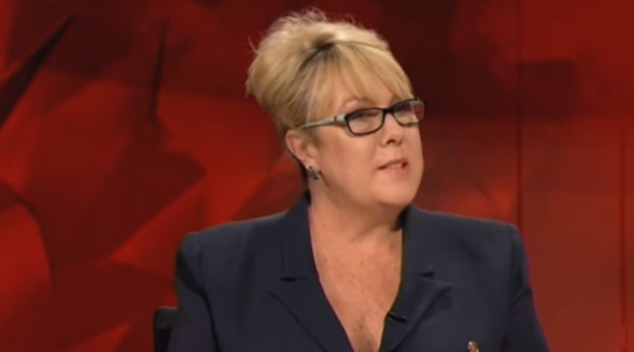 Liberal Party Vice President Teena McQueen made her debut on the ABC's Q&A program last night, dismissing controversial provocateur Milo Yiannopoulos as an 'entertainer' in the wake of his ban on entering Australia.
Appearing alongside feminist author Roxane Gay, Greens senator Mehreen Faruqi, Manager of Opposition Business Tony Burke and Liberal MP Craig Laundy, McQueen responded to a question about hate speech by saying the worst example she had heard was from Greens leader Richard Di Natale.
"I mean, he comes out with absolutely disgraceful things," McQueen said.
"He's incited violence against the likes of Andrew Bolt. And Milo Yiannopoulos… I class him as an entertainer. No one should take him seriously."
US author Roxane Gay interrupted McQueen, reminding her that "hundreds of thousands of people in the United States take Milo seriously. They follow him. They pay him money to go see him speak."
McQueen also dismissed the notion that US President Donald Trump has acted in a racist or sexist way, recalling time she had spent with the former reality star.
"I was chaperoned with him in the Miss Universe contest when he was running that. He was there the whole week. He always said he intended to run for president," McQueen said.
"He was not racist, not sexist, none of those things."
McQueen also elicited groans from the studio audience when she interruped Gay's praise of New Zealand's Prime Minister Jacinda Ardern for banning semi-automatic weapons following the recent attack on Christchurch to take credit for the move.
"We did that. The Liberal party did that years ago," McQueen interjected.
"May I also remind you Jacinda Ardern is only there because she formed an alliance with [New Zealand First leader] Winston Peters. I think everyone forgets that particular fact."
Sydney Morning Herald have reported that the President of the NSW Liberal Women's Council Mary-Lou Jarvis has contacted Liberal Party senior figures to complain about McQueen's statement on last night's Q&A.
"I am confident neither the Federal President, State President or State Director authorised her to speak on behalf of the Liberal Party," Jarvis told SMH.
"She was certainly not speaking on my behalf nor many other Liberals based on the complaints I received as the program progressed."
OIP Staff
---