Like A German: Hans is no Pollyanna on his new Australian tour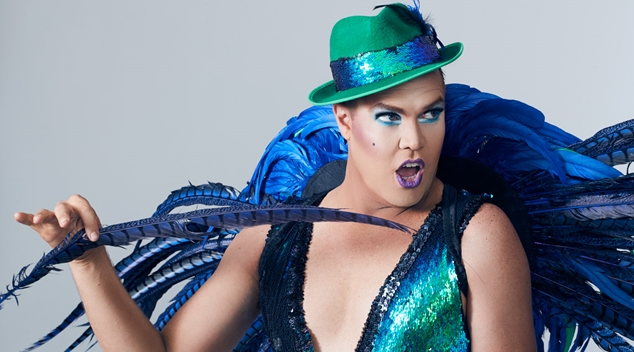 One of Australia's favourite break-out international superstar is heading back down under with his accordion and a sensational side-splitting tour.
A must-see perennial of international Fringe circuits, "Berlin" boy-wonder Hans shone bright in the international spotlight with an appearance on America's Got Talent – and now the inter-continental cabaret star is bringing Like A German to Australian soil.
With accolades from Heidi Klum, Mel B and Simon Cowell, Hans is set to put on a sparkling stage spectacular upon his return. We caught up with Hans for a chat, and we had to start by asking when he realised his own sex symbol status.

"I have to say, it's something I think from a very young age I've known how to identify," Hans tells us.
I think I was a little bit different, one of these boys is not like the others kind of thing. So the label was thrust upon me, quite literally!"
The multi-talented cabaret performer got his musical start on the piano, but Hans has become known for his fast fingers on the accordion.
"Once you learn you can pump, you never want to stop doing it, darling!"
"You feel your way around the accordion, you can't really see what you doing. It's the Braille of the instrument world. There were not many people playing song like I do on the accordion like the Madonna, Kylie Minogue… are you sensing a theme? So I've just taken that accordion and I've run with it."
With both skill in the accordion and piano, and a love of all forms of stagecraft, Hans tells us that cabaret was the obvious pathway for his rise to stardom.
"I think about the cabaret is that it kind of brings everything together. The design, the signing, the dancing – if you've never been to a cabaret show, I'd describe it as kind of like going to see a stand-up comedian but with talent."
"We put a lot of effort into what we do, unlike some of those stand up comedians, honey. I can't come in like I was looking on the street! It takes a bit of preparation darling."
Though Hans was lavished with love and support from his adopted home here in Australia after appearing on US screens, Hans recalls that he certainly stood out in the America's Got Talent crowd.
"Americans are a funny bunch aren't they? I would describe my response as … mixed. It was a mixed response and I loved it! I think with me you either love it or you hate it and I wouldn't want to be any other way darling. I don't want to be Pollyanna."
Now pouring his energy into an all new show, Like A German promises to bring the queens of pop, camp and musical theatre to Australian audiences – with Hans' singular flair, of course.
"There's a bit of Madonna, there's a bit of Minogue, there's a bit of Julie Andrews, there's a bit of Marlena, there's a bit of Britney… except I'll actually be singing live!"
"I wish I could lip sync but the budget doesn't stretch that far so I have to sing on my own. When I start lip syncing you'll know I've really made it."
Like A German will be making stops around the nation, and Hans tells us he's particularly excited to return to the west coast.
"I'm really looking forward to getting back, because Perth people know how to party! Last time I was in Perth there was a woman called Lisa Scaffidi… I can't wait to see what the hell she's been up to in the last year. I wonder  if she's paying for her own travel these days?" Hans chuckles.
"But you know my show is a response to what's happening in the room, a response to what's happening in the world, every show is different!"
Hans: Like A German will be at Mandurah's FishTrap Theatre on Nov 20th, Bunbury's The Cube on Nov 21st, and Perth's State Theatre Centre on Nov 22nd and 23rd.
For tickets and more information head to hansofficial.com
Leigh Andrew Hill
---