Living The Bi Life: Perth's Bisexual+ Community Group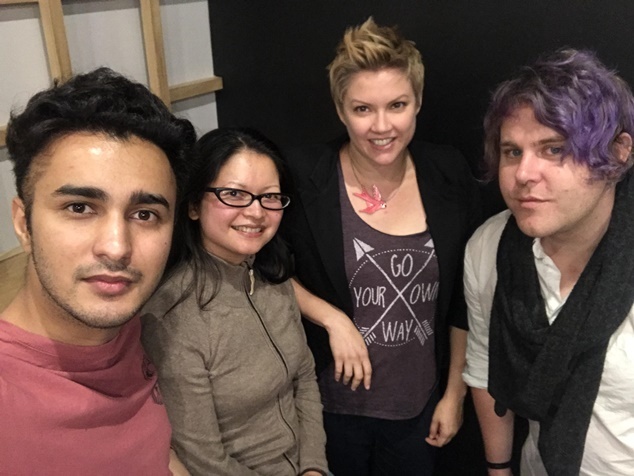 Bisexual icon Alan Cumming will be performing in Perth for the first time next month.
Thanks to the increasing profile of Cumming and other celebrities who identify as bisexual or bi+, bisexuality has become more visible and validated as a sexual orientation.
As a result, an increasing number of people are coming out as bi+ or as simply neither straight nor gay.
A new bi+ group has been set up to accommodate the local bi+ community. We spoke to the four coordinators, Misty Farquhar, Duc Dau, Hen and Sam of Bisexual+ Community Perth about their group.
Group founder Misty Farquhar said that the general and LGBTI/queer community is coming to terms with bisexuality. Even so, acceptance has been slow.
"Bi+ people still face considerable prejudice and misunderstanding not just from the general community but also from lesbians and gay men," they said.
"I recently saw a prominent – and otherwise awesome – queer performer make fun of bisexuals after asking us to identify ourselves as part of their show. It may have seemed like a harmless joke, but this type of thing can really make us feel like we're not welcome in queer spaces.
"I spent a long time trying to find a place to connect with people like me but couldn't find anything."
So Misty started their own group.
"It's a Facebook group where bi+ people can chat and connect with other bi+ people in Perth without being harassed by people looking to hook-up."
Duc Dau, another coordinator, added that recent statistics from the US indicate that bisexuals make up at least half of the LGBTI/queer community.
"However, despite the fact that bisexuals face stigma and worse health and mental health outcomes than heterosexuals, lesbians and gays, there are few programs dedicated to us," she said.
This is one of the reasons why in 2014 she and two colleagues established a bisexual network at her workplace, UWA.
"UWA BTW (Bi the Way) is the first university network in Australia to connect bi+ students, staff and alumni. We're not a counselling group, but we offer a sense of belonging, which can make a big difference if you're feeling isolated."
She believes that her involvement with Bisexual+ Community Perth is an extension of her work at UWA.
In addition to having a Facebook presence, the group has started holding activities and hopes to expand the list of activities.
"We encourage anyone in the multi-attracted vortex to join our online community," said Hen.
"When they feel ready, we also hope they will show up in real life to meet other bi+ people in Perth. We are friendly humans."
They said that the group hopes to march as a group at the Pride Parade later this year.
"We want to show to the people of Perth that there is a B in the LGBTI community."
Sam noted that the group is open to bi+ people regardless of gender identity or who they are or are not partnered with.
"Wherever you sit on the bisexual spectrum, we want the group to be an opportunity for us to come together and celebrate our uniqueness in the community."
"So join our group, and if you're keen later in the year, march with us at the Pride Parade."
You can join the Bisexual+ Community Perth group by searching on Facebook or going directly to www.facebook.com/groups/bicommperth
Their next event will be a 10.30am brunch on May 21 at Henry on Eighth, Maylands.