Living Proud Launched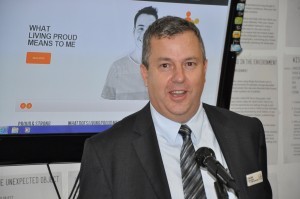 The Living Proud project kicked off with a bang late last month, drawing a healthy crowd with guest speakers, an introduction to the Living Proud website, and a video compiled from queer youth of the Freedom Centre.
The Living Proud project stands as stage two of the Community Action Plan (CAP), which is working on suicide prevention and raising mental health awareness amongst the LGBTIQ community.
On behalf of community coordinator Tamara Bezu, Freedom Centre coordinator Dani Wright thanked everyone for coming down, and explained the purpose of the evening.
'This event is the start of a year of events activities, trainings for the community and above all opportunities for us to connect, share, care, be aware, be allies and support each other', she said.
Living Proud received funding by the Minister Of Council For Suicide Prevention. Funds given were recorded as the most funding that any Gay and Lesbian Community Service has received for a year worth of work. Wright referred to the funding as 'really special and ground breaking for us'.
Peter Fitzpatrick, chairperson of the Ministerial Council Suicide Prevention spoke briefly, highlighting the importance of combating suicide within the rainbow community.
'The gay and lesbian community is a "high at risk group" due to attitudes in the community which cause people to feel rejected and suffer from poor self esteem', he said.
One Life Coordinator Clive Elliott praised the quality of the work undertaken to date, stating, 'Your stage two Community Action Plan was a shining light. We're very proud to come to the launch'.
Check out the photos from the launch
If you are experiencing suicidal tendancies, call Lifeline on 13 11 44 or Suicidal Call Back Service on 1300 659 467