Living well with HIV – Vienna 2010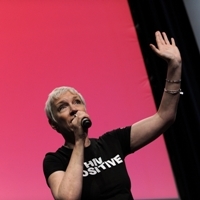 Living with HIV more often than not means living with the medication to stop the replication of HIV. In Australia, approximately 80 percent of PLHIV are currently on medication. The interest in HIV medication continues to increase as the role of treatments into the realm of prevention continues to be explored and expanded. This is particularly true for people who are dating and sexually active. Recently the new HIV treatment guidelines from the USA include eligibility criteria for people starting HIV treatments on the basis of potential transmission risk. The ongoing role of treatments in prevention is expanding across the globe, however not all people have the same access to treatments as we do in Australia.
This year I was fortunate to be able to attend the 18th International AIDS Conference which was held in the city of Vienna. One of its foci was the promotion of the Vienna Declaration which is a scientific statement seeking to improve community health and safety by calling for the incorporation of scientific evidence into illicit drug policies. This is particularly important for prevention efforts for the countries of Eastern Europe who lag behind the rest of the world in the provision of needle and syringe programs such as those available to people in Australia.
Attention also centred on the right to live, which for many people with HIV around the world, also means a right to health and therefore a right to access life-saving HIV treatments. In Western Australia, it could be easy to take for granted our universal access to health. At the conference I witnessed protesters shouting for their right to live, for their right to health even when there is no money to pay for it. As I listened to their voices I was moved to stand with them in human solidarity. It is my belief that when we commit to people before profits we make it clear to all that human values come before corporate values… always. This makes clear this year's theme in Vienna 'Rights Here, Right Now'.
There are several ways you can find out more about what happened at the International AIDS Conference in Vienna. You can go to the website and listen to many sessions that were webcast www.aids2010.org. It is inspiring to hear the likes of Annie Lennox, Whoopi Goldberg and Debra Messing make statements of solidarity with PLHIV and other marginalised, vulnerable groups. You can also attend the WA AIDS Council Treatments Forum being held on 25th August at the Citigate Hotel. Please contact me for further details on 9482 0000 or by email [email protected]
May we keep building the momentum towards global universal health.
Cipri Martinez
***