Lunar Lady: Joni in the Moon gears up for Freo Festival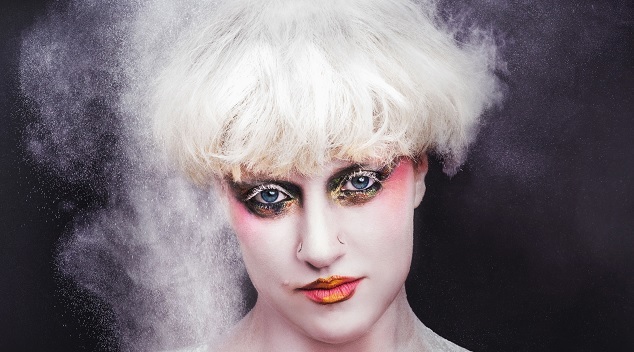 Ethereal pop sensation Joni in the Moon will be joining the incredible Fremantle Festival lineup this year to perform in the beautifully Gothic church that stands in the city's centre. We caught up with Joni for a quick chat ahead of the festival to see what we can expect.
First of all, I want to know. Why "The Moon"?
How awesome is the moon? I have an ongoing obsession with the moon. I also like playing around with gender: there always used to be a man in the moon so I said 'Why can't I be in the moon?'

So you're telling me you didn't name yourself after The Moon Cafe?
No, but what an institution!
How will a live Joni in the Moon performance match up to your surreal music videos?
This performance in the chapel is going to be quite a unique line up. It will be similar to a show we did at Disconnect Festival. We've got Terra on keys, we've got an amazing double bass player Phil Waldren who will be playing that and all of his other instruments. Terra, myself and Ofa of Odette Mercy will be on vocals. It's more of a stripped back version of our usual set. A lot of newer material as well.
We all love dressing up… you'll just have to come as see!
War and Porn was such a massive hit – has that put any pressure on your subsequent projects?
I don't put that much pressure on myself anymore. I'm just going to be writing my music, I'm not really doing it for anyone but myself. The stress of trying to conform to the industry timeline just does my head in. If people like to hear my music, then that's great!
Who are you personally looking forward to seeing at the Fremantle Festival?
Abbe May! She's a really close friend of mine and I friggin love her to bits. She debuted this really cool variety show last year called The Tonight Show with Abbe May and I was singing in her choir for that. I'm really looking forward to that again this year because it was so hilarious. She should have her own television show.
Joni in the Moon will be at St John's Anglican Church on Saturday October 29th at 7pm as part of the Fremantle Festival. For tickets and more information, head to FremantleStory.com.au
Leigh Hill