Luxe Bar Parties Until the Last Cocktail is Shaken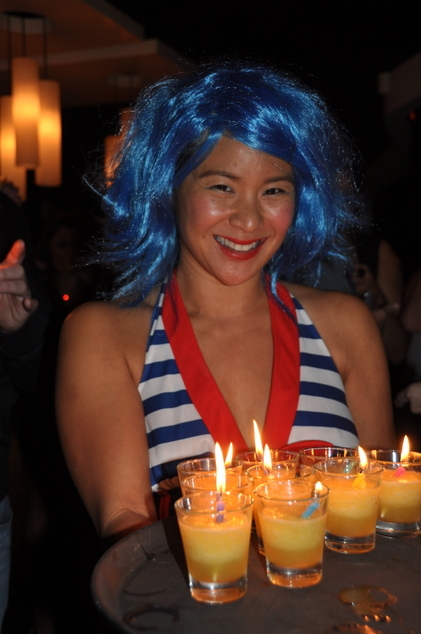 Highgate's Luxe Bar are calling it a day but the bar's management team are ready to party right up until when the doors close for the last time.
The Highgate bar which opened thirteen years ago recently announced it would be pouring last drinks in early May.
Last night the bar saw an enormous turnout for it's '80s Night, with staff donning their best leg warmers, headbands and 'Choose Life' t-shirts.
"It was amazing!" Michelle Mok the Managing Director of Luxe exclaimed.
"Now that the bar is celebrating its last few weekends, many people are coming down to celebrate and remember the good times they've had over the years."
Mok admitted that she's been taken aback by the out pour of love and affection for the venue, "There has just been a declaration of love and a warm fuzzy vibe, there are a lot of people to whom this venue means a lot to."
Perth's queer community have always been big supporters of the bar, especially their weekly 'Love Sundays'  events.
"There's two more 'Love Sundays' to go, the third of May will be the last one' Mok said, 'This weekend is a long weekend which will be hugely amazing and then there will be one more."
The bar has always aimed to be different, when they launched their outside space Bamboo, guests received an invitation on a 7inch record, with the label listing out the details of the opening.
"I was just sick of invitations being boring," Mok said on being reminded of the unusual invite, "I still have mine. It's things like that just start bringing so many memories flooding back, I've met so many beautiful friends of the thirteen years."
Mok counts regularly welcoming actor Heath Ledger to the bar as one of the highlights of her time at Luxe. "He felt really comfortable at Luxe and that was our goal to make everyone feel really comfortable and to treat everyone the same. We never had a VIP section or state of mind." Mok proudly declares.
A number of celebrities have dropped in on the bar over the years from Miranda Kerr doing a photo shoot to visiting musicians and actors grabbing a cocktail at the stylish bar.
"Craig David came by one night, Badly Drawn Boy has been in," Mok said, "Julius Walters from Kinobe comes in and he's a great friend. Lots of actors and performers from touring shows have been here."
For Mok she's looking forward to taking her career in a new direction.  "I love hospitality," Mok said, "but this will be my last bar."
For her next stage in life Mok's set to develop her career as a yoga teacher. "I just qualified as a yoga teacher, and I'd love to explore that. It surprises a lot of people but I've been practicing for most of my life."
"I did it as a little girl, and then I probably rebelled against it in my teens, 'If Mum and Dad do it then I don't want to do it!' and then I started back in my twenties and I just love it."
Luxe Bar is at 446 Beaufort St, Highgate
Graeme Watson, image: Michelle Mok at Love Sunday's first birthday party.