Magda Szubanski stars in new video for Seeker Lover Keeper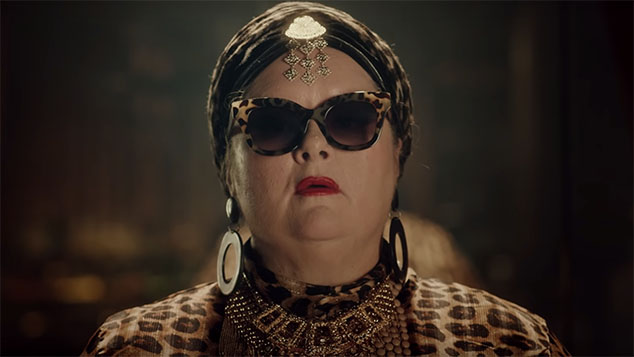 Musical trio Seeker Lover Keeper have returned with some new music and roped in Magda Szubanski to star in their latest video. The band comprises Sally Seltman, Holly Throsby and Sarah Blasko.
Let It Out is their newest song, and it comes eight years after the three singers, who all have their own successful solo careers, first teamed up.
Magda Szubanski has spoken about making the video for the song, and where she drew inspiration from for her performance.
"It was really interesting to me that when Holly wrote this song she actually meant it in a more personal way but to me it resonated in a universal sense. Having gone through the whole journey of coming out – not just about sexuality but about who I really am in terms of revealing my beliefs, my morals, my intelligence, my real talents along with my flaws and weaknesses – I've felt like a butterfly shaking off a carapace.
"I cannot emphasize enough the sense of generous, open-hearted empowerment that flows into you when you finally are standing on the solid ground of your authentic self." Szubanski said in relation to the collaboration.
"The woman in this video is fierce and intense, warm and slightly whacky. She is someone who is both a theatrical performance of self, bold and dramatic, but firmly rooted in a deep knowledge of who she really is.
Szubanski said her performance in the video came quite naturally but she drew inspiration from important women in her life.
"Natalie the director asked me to do some little dance moves and on the day I hadn't prepared anything at all but I just went with what felt right and what you see is the result of that and you can make of it whatever you want.
"In this performance I was channelling three women: my mother, my Scottish grandmother and my Polish grandmother. My Polish grandmother was an extraordinarily brave and compassionate woman who risked torture and death to hide Jewish people all through the war in Nazi occupied Poland.
"My mother and her mother were both women who were gifted with the "healing hands" – and also hearts. Themselves damaged and broken in many ways, they still had the ferocious strength and loving kindness to be able to stand by men who had been shattered by war.
"I think that young people desperately need hope and strength given the challenges they face. And there is a crucial role for older women to play. We can impart the lessons of courage, wisdom, compassion and strength that we have developed over decades of surviving and persisting in a world that wanted to keep us powerless and silent. In a world that was at best indifferent and at worst hostile to the authentic power that resides within women, a power that is both fierce and soft. And that is not conferred by the external world but that comes from deep wells of empathy within.
"And hopefully this will also free men to step out from behind the facade of false power and finally be their genuine, upright powerful selves." Szubanski said.
The band have announced they will play two live shows in Melbourne and Sydney.  Catch them on Friday 12 July at the Lansdowne Hotel in Sydney with Jack Colwell and Elizabeth Fader as supports, or see them on Saturday 13 July at the Northcote Social Club in Melbourne where they will be joined by Alice Skye and Kee'ahn.
OIP Staff
---