The Magic of Les Miserables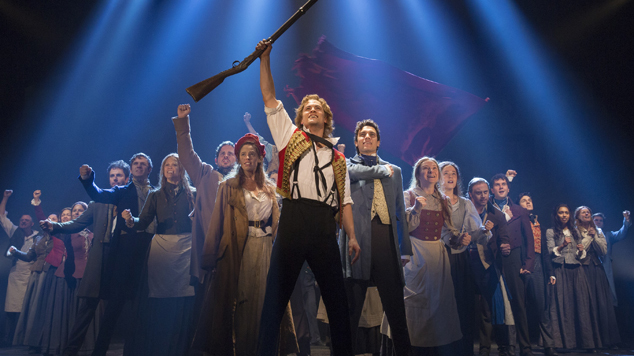 Cameron Mackintosh's new production of 'Les Miserables' is heading to Perth. The show which is one of the most successful musicals ever has been given a makeover. The new production utilises projections and innovative lighting to bring 19th century Paris to life.
The show looks like a giant oil painting has come to life. The fast moving musical is filled with emotion as it follows the lives of Jean Valjean, his ward Cosette, his nemesis Inspector Javert and the people living in the slums of Paris .
Simon Gleeson takes on the lead role of Jean Valjean, while Hayden Tee appears as Inspector Javert. Patrice Tipoki plays Fantine, while another WAAPA graduate, Emily Langridge plays her daughter Cosette. Kerrie Anne Greenland plays the lovelorn Eponine, while the handsome Chris Durling excels as revolutionary Enjolras. Euan Doige takes on the role of love interest Marius, while Trevor Ashley and Lara Mulachy get all the laughs as the Thenardiers.
Euan Doige who plays the heart-throb Marius remembers the first time he was introduced to the world of 'Les Miserables'.
"My first 'Les Miserables' experience must have been when I was about thirteen. My singing teacher gave me some sheet music and she said, 'Let's work on this song 'Stars''. I had no idea about the show, but I loved the music. I performed it at a local singing competition." Doige said.
"I love being a part of this show because I think it's so important to share this story with people. Simon Glesson mentioned a while ago, 'This is the last show that is telling stories, stories that really happened.' Musical theatre is changing, people are still creating things that are amazing, but it nice to share a story. It's so true and full of honesty."
When asked if he has a favourite moment in the show Doige nominates 'At the End of the Day'.
"I just enjoy that scene, all these factory workers, and all the boys are together, it's just got great energy. It's the first big chunk we do as an ensemble."
One face that will definitely be familiar to queer audiences will be Trevor Ashley's. The performer has spent the last few years successfully working in big musical productions like 'Hairspray' and 'The Adventures of Priscilla, Queen of the Desert', alongside his own popular cabaret shows. He brought his 'Lisa on an E' show to Perth's 'Fringeworld' in 2013.
Ashley takes on the role of the dubious Innkeeper Monsieur Thenardier, a character who provides much of the comedy relief in the show. Ashley works closely with Lara Mulcahy, the WAAPA graduate who has previously starred in 'Mama Mia' and appears in many of Baz Luhrmann's films.
"It's not known as a comedy," Ashley said, 'Cameron [Mackintosh] was adamant that as much as possible he wanted as many laughs that we could get."
There's no denying the chemistry between Ashley and Mulcahy, who plays his wife Madame Thenardier.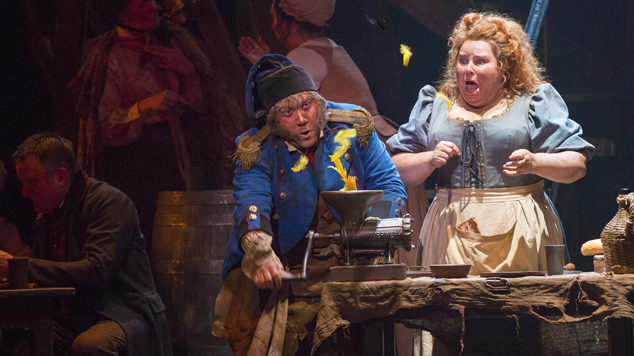 "We spent a lot of time on stage trying to make each other laugh," Ashley confesses. "She'll say something ridiculous to me and try to get me to laugh…it's a fun relationship we have."
"Thenardier is a very interesting character," Ashley said, "He's possibly the most evil character in the show really. The show has a lot of religious overtones really, Valjean finds God and he's able to change himself, but Thenardier and his wife are really seen as the Godless of the show."
"He's a character who relishes the fact that he's totally wrong, he'll happily sell his daughter, or kill someone, and it doesn't really bother him. Things don't come into his moral compass."
Ashley said he was enjoying the challenge of being in a very different kind of musical.
"Let's be honest, some days I do wish for a sequin or two, or an up-tempo number would be nice." Ashley jokes, breaking into a giant laugh. "It's very different to Priscilla, that was all feathers and over the top pop songs. It's funny for me to be in such a legit show – I think everyone was surprised when it was announced that it would be me playing the role!"
'Les Miserables' opens for previews at the Crown Theatre on December 31st.
Tickets are available from ticketek.com.au
Graeme Watson
Photo: John Tsiavis & Matt Murphy