Makeup company drops Alice Cooper over transgender comments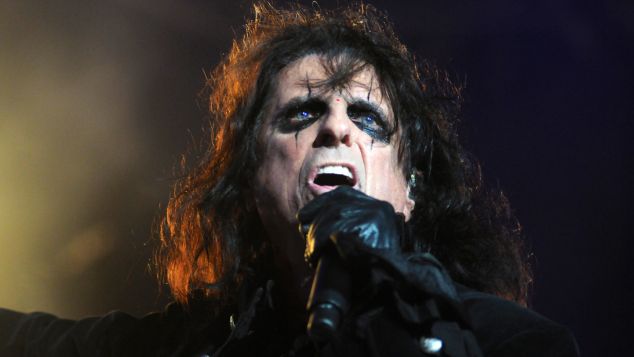 A makeup company is severing ties with rocker Alice Cooper over comments he made regarding transgender ideology.
Warning: This story has details of comments which might be distressing to some readers. For 24-hour crisis support and suicide prevention call Lifeline on 13 11 14. For Australia-wide LGBTQI peer support call QLife on 1800 184 527 or webchat.
Vampyre Cosmetics said it would no longer be working with Cooper after he said transgender youth were just getting involved in a "fad" and suggested youth were identifying as cats.

"In light of recent statements by Alice Cooper we will no​​​​​​​​​ longer be doing a makeup collaboration. We stand with all members of the LGBTQIA+ community and believe everyone should have access to healthcare. All pre-order sales will be refunded."
The company had only just launched their collaboration with Alice Cooper in mid-August describing it as a range of products that would be a "exclusive collection celebrating the distinctive look and style of Alice Cooper".
But just days later Cooper shared his thoughts on transgender youth in an interview with music website Stereogum.
During the chat the interviewer noted that back in the 1970's Cooper had said that in the future everyone would be bisexual and asked for his thoughts on recent controversies about transgender comments surrounding other ageing rockers including Twisted Sister's Dee Snider and KISS singer Paul Stanley.
"I'm understanding that there are cases of transgender, but I'm afraid that it's also a fad, and I'm afraid there's a lot of people claiming to be this just because they want to be that. I find it wrong when you've got a six-year-old kid who has no idea. He just wants to play, and you're confusing him telling him, "Yeah, you're a boy, but you could be a girl if you want to be." the singer replied.
"I think that's so confusing to a kid. It's even confusing to a teenager. You're still trying to find your identity, and yet here's this thing going on, saying, "Yeah, but you can be anything you want. You can be a cat if you want to be." I mean, if you identify as a tree… And I'm going, "Come on! What are we in, a Kurt Vonnegut novel?" It's so absurd, that it's gone now to the point of absurdity." Cooper said.
In a lengthy discussion on the topic Cooper said he was concerned that people would take advantage of laws recognising transgender people and it would lead to sexual assaults on women.
"I can see somebody really taking advantage of this, though. A guy can walk into a woman's bathroom at any time and just say, "I just feel like I'm a woman today" and have the time of his life in there, and he's not in the least bit… He's just taking advantage of that situation. Well, that's going to happen. Somebody's going to get raped, and the guy's going to say, "Well, I felt like a girl that day, and then I felt like a guy." Where do you draw this line?" the singer said.
Alice Cooper first came to prominence as a musician in mid-1970s and his career has seen him sell over 50 million records. He is known for his outrageous stage shows. He scored one of his biggest chart hits in 988 when he released Poison which was lifted from his eleventh studio album.
In 2004 he began his radio show Late Nights with Alice Cooper which is syndicated to radio stations around the globe. It Australia it airs on the Triple M Classic Rock network, and on various regional stations.  Rebel FM which has stations across regional Queensland have recently announced they'll be dumping the show from their roster after 20 years.
OIP Staff
---
Do you need some support?
If you are struggling with anxiety or depression, support and counselling are available from:
QLife: 1800 184 527 / qlife.org.au (Webchat 3pm – midnight)
QLife are a counselling and referral service for LGBTQIA+ people.
DISCHARGED: [email protected] / discharged.asn.au
Discharged is a trans-led support service with peer support groups for trans and gender diverse folks.
Lifeline: 13 11 14 / lifeline.org.au
Beyondblue: 1300 22 4636 / www.beyondblue.org.au
---

You can support our work by subscribing to our Patreon
or contributing to our GoFundMe campaign.