Just when in February is the plebiscite likely to be?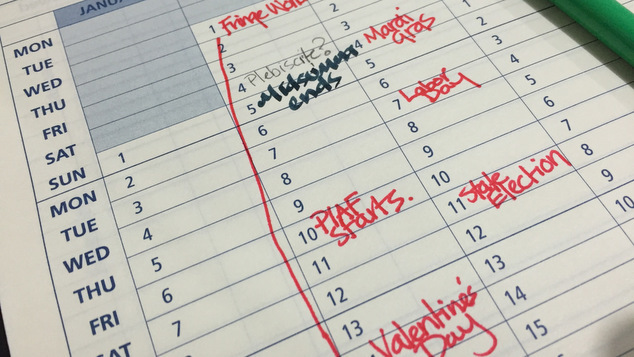 They say there's never a perfect date for anything. No matter if you're organising dinner with a bunch of friends, your annual holidays, a dance party or an expensive national plebiscite – it's going to clash with something.
With news that the plebiscite is most likely going to be held in February 2017, the $160 million dollar poll will be looking for the perfect date, so exactly when in February will the vote take place?
A February vote won't be able to avoid clashing with Western Australia's state election. We're scheduled to go to the polls on Saturday March 11th.
As state polls are now set at fixed dates the WA Liberal government has little choice about when they can pull the trigger on an election campaign. The legislation, that was passed in 2011, allows for the date to be pushed back in exceptional circumstances if the second Saturday in March is not available, but there's no provision for a federal campaign running at the same time.
Given that almost all the vocal opposition to marriage equality comes from the conservative side of politics and WA has several Liberal MPs who are very outspoken about their views on not only marriage, but the families of same sex couples and people who are transgender – it's probably fair to say Premier Colin Barnett has already started developing a migraine.
The WA Liberals are already struggling in the polls, how much state politics will be affected by the marriage equality debate is an unknown factor – but its unlikely to help the WA government in their quest to be returned for another term.
It's likely that the date selected will probably be early in the month. A campaign for marriage equality that ran over Valentine's Day on February 14th would potentially give a great advantage to marriage equality advocates. You can imagine thousands of positive images of people in love giving great strength to the 'Yes' campaign.
Early February is a busy time in Perth, Fringe World brings hundreds of thousands of Western Australians out of suburbia and into the city. The Perth International Arts Festival kicks off on February 10th adding an extra layer of culture to the city.
Could we see a bundle of marriage equality themed cabaret, theatre and street performance listed in the Fringe World 2017 program? Will activists make the most of the big crowds on the streets and stage massive rallies, will they fill Northbridge with pop-up 'how to vote' booths?
Pride's annual Fairday has also been taking place in February for the last couple of years. Could one of Perth's biggest LGBTIQ community events have an effect on people's understanding of the LGBTIQ+ communities?
The Sydney Gay and Lesbian Mardi Gras parade isn't until Saturday March 4th, either way it's shaping up to be either Australia's biggest LGBTIQ+ party of all time, or our biggest protest march ever. Expect hotel rooms in Sydney to sell out faster than usual for the parade weekend.
While the parade isn't until March, the Mardi Gras program begins on February 17th, another sign that the plebiscite is more likely to be early in the month.
Melbourne's Midsumma festival however runs over January and the beginning of February with their Pride March on Sunday 29th January. Last year saw many LGBTIQ supportive politicians joining the March, expect to see a lot more in 2017.
So taking all those factors into account, does Saturday February 4th sound like a good bet?
February 4th, it's the exact mid-point of summer, it's the day Facebook was founded, and it's the day Rosa Parks was born.
Graeme Watson