Marriage Alliance criticised for rainbow noose imagery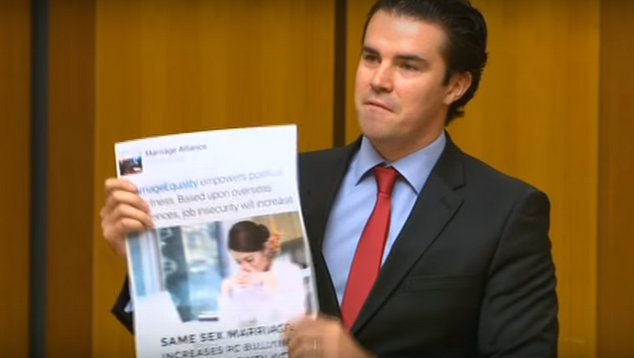 Warning: this story includes imagery that may be offensive to some readers. It includes images that could be interpreted as suicide or lynching.
Traditional marriage lobby group, the Marriage Alliance has been criticised for it's latest campaign imagery that features a woman with a rainbow noose around her neck.
The group posted the image to their social media platforms including Twitter and Facebook and stated;
"#MarriageEquality empowers political correctness. Unpopular opinions about marriage and gay rights will threaten the job security of employees. Same Sex Marriage is not worth the damage."
Some viewers have interpreted the image as suggesting the introduction of marriage equality will lead to opponents being bullied in the workplace and this may lead to suicides.
The Marriage Alliance has responded via Twitter saying the noose is a symbol of political correctness in the workplace.
Labor's Tim Watts criticises the Marriage Alliance
Labor MP Tim Watts raised concern in federal parliament over the image used by the Marriage Alliance in their campaign to stop marriage equality in Australia.
"This morning we've seen the kind of quote 'respectful debate' that Malcolm Turnbull's completely unnecessary $160 million dollar marriage plebiscite will bring to Australia." Mr Watts said.
Mr Watts criticized the organisation for claiming to be an organisation that speaks for mainstream Australia when it will not disclose who it's financial backers or members are.
"This a group that regularly quotes data opposing marriage equality  but refuses to disclose the sources for this data." Mr Watts said, in reference to the group's previous campaign that claimed the children who did not have a male parent in the home were more likely to drop out of high school, end up in jail or become violent rapists.
The Victorian MP said, despite their claims to the contrary, the Marriage Alliance was not really interested in having a debate on the issue.
"Despite their bleating, these groups do not want a debate. A debate implies that there are people willing to change their minds, but as we've seen through the comments of Senator Abetz, Bernardi and McKenzie in recent times, not even an overwhelming majority in favour of marriage equality at the plebiscite will change their minds, or their votes."
The group was criticised for turning down genuine media requests, including ones from Buzzfeed News who revealed that they had approached the organisation for an interview 18 times without getting a response.
Mr Watts said that by proceeding with the planned plebiscite, that will require the government to fund campaigns for both sides of the argument to put their case forth, Prime Minister Malcolm Turnbull will potentially be writing cheques that will fund groups like the Marriage Alliance to create television advertisements that tell LGBTIQ parents that they are flawed parents.
Watch Tim Watts speech to parliament. 
Suicide Prevention groups respond to the campaign
Both beyondblue and Suicide Prevention Australia have responded to the campaign noting the inappropriate use of the noose image.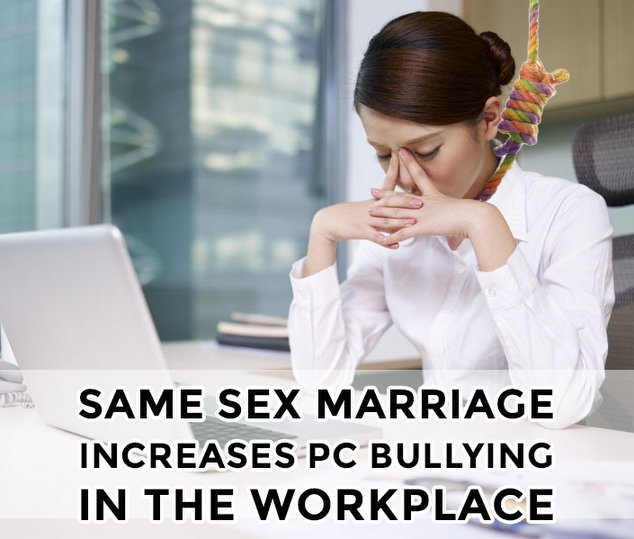 The mental health group beyondblue tweeted the Marriage Alliance and raised their concern about the choice of imagery.
"MarriageAll we're advocating strongly in this space to reduce stigma harmful messages around suicide like this," the group's tweet read.
"You may not have thought about it, but you may want to consider the harm that depicting someone in a noose may cause."
Suicide Prevention Australia have also highlighted the use of the noose image is also detrimental to tackling suicide and deflects from the real debate.
The Marriage Allliance has responded top the concerns raised by responding to both groups telling their support of marriage equality was inappropriate;
"a biased position in the same sex marriage debate deflects from core mission. A neutral stance is always best governance." is what the Marriage Alliance tweeted back to the nation's leading organisations on suicide prevention.
OUTinPerth contacted the Marriage Alliance's spokesperson Sophie York but she was unable to comment at this time. 
---

---
Readers seeking assistance are encouraged to contact one of the organisations below:
Lifeline: 13 11 14
Beyondblue:
1300 22 4636 and www.beyondblue.org.au
QLife:
1800 184 527 and www.qlife.org.au QLife are a counselling and referral service for Lesbian, Gay, Bisexual, Transgender and Intersex (LGBTI) people.
---