Marriage Equality Bill Introduced in WA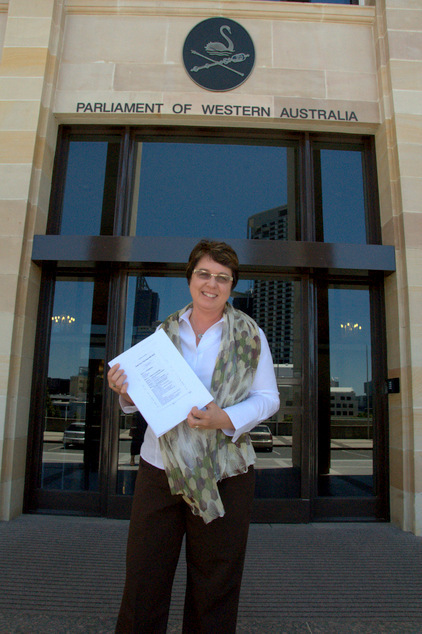 Greens MLC Lynn MacLaren has introduced a Marriage Equality Bill into the Western Australian Parliament today.
The Same-Sex Marriage Bill 2013will allow the authorisation of celebrants and the registration of same-sex marriages via an amendment to the Births, Deaths and Marriages Registration Act 1998.
MacLaren described the introduction of the legislation as, "a major milestone in a long road to social equality".
In parliament she said, "It is my solemn and heartfelt privilege to remove discrimination for adult couples who love one another." She noted the passing of Nelson Mandela and highlighted his groundbreaking work in South Africa which included the appointment of gay judges and anti-discrimination laws. Ms MacLaren highlighted that South Africa has been at the forefront of Marriage Equality quoting Mandela, "We must use time wisely and forever realize that the time is always ripe to do right."

MacLaren called on parliament to act with urgency to act on the manner. "Where the Australian Parliament has failed we can succeed",said MacLaren noting that her bill was different to those introduced in other states.
"It is the difference we make to the lives of others that will determine the significance of the life we lead."
Maclaren congratulated Labor MLC Stephen Dawson on his recent marriage in the ACT and expressed her disappointment that the high court has now ruled the legislation, under which Dawson and his partner wed, invalid.
MacLaren said Autralian political leaders are out of step on this issue and that it's high time Western Australia joined other states and nations of the world in embracing marriage equality. In announcing the bill Maclaren admitted the bill fell short in addressing the needs of trans* communities.
"It is the difference we make to the lives of others that will determine the significance of the life we lead," said MacLaren as she submitted the bill to the house.
Australian Marriage Equality (AME) national director, Rodney Croome said "AME welcomes MacLaren's commitment to achieving marriage equality in WA". "We call supporters of marriage equality across all parties in WA parliament to join Lynn in co-sponsoring a marriage equality bill".
MacLaren believes,  "that with the new WA Parliament we now have enough support to pass this legislation".
Graeme Watson and Ryan Boldison