Miss Fame: Glambassador to Australia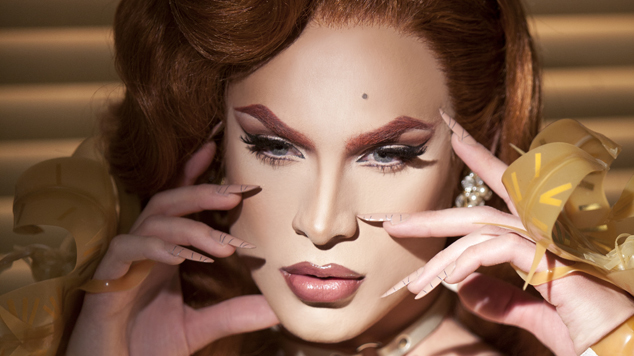 If you watched season 7 of 'RuPaul's Drag Race', you'd know that Miss Fame is a goddamn brand. The drag persona of Kurtis Dam-Mikkelsen has perfected her aesthetic, drawing thousands to her YouTube make-up tutorials long before Drag Race hurled her into the spotlight. Fame regaled me with tales of her glamourous travels, including her recent trip to Paris.
"I got back from Paris yesterday, I did a photoshoot with a very iconic photographer named Ali Mahdavi and she is somebody I met about three weeks back. Me, Violet Chachki, Pearl and Sharon Needles went to be amongst the fashion people in Paris Couture Week and we were invited by Prada to attend the Miu Miu runway show," she recalls. "Mahdavi was obsessed with the way I looked and he was just obsessed with glamour and fashion, he said he wants to shoot me for a certain publication that will come out in October."
Devotees of Drag Race will know Miss Fame's predilection for chatting and I was gleefully absorbing her verbose recollections of her Parisian exploits. It is clear that Fame is passionate about beauty and works exceptionally hard to represent the queer community as a high fashion queen.
Fame is still a country boy at heart, growing up on a chicken farm in California before making the move to New York City and says she is often humbled by letters from isolated LGBTIQ youths who live in isolated, unsupportive areas.
"These are young kids, they're afraid to tell their parents that they're gay, that they're trans, or that they like to dress in drag. They're doing it in hiding and they're asking me for my advice," she said as she shared some of that advice with me, "Surround yourself with people you feel safe with and feel loved by, those are your friendships, until you are old enough to make those decisions for yourself."
Fame's fan-base is one of loyalty, due to the queen's message of positivity and self-love. Fame's musical debut 'Beauty Marked' explores these concepts as an album, as she tackles social media (Insta-Fame), self-image (Rubber Doll) and even pokes a little fun at herself with fellow Drag Race alum Alaska Thunderfuck on the track 'Miss Fame'.
"I realised if I limit my artistic development then I'm short-changing my capabilities", Fame said on deciding to launch an album. Fame wrote the lyrics to every song on the album, proving she has the versatility that RuPaul and Michelle Visage so adore in their children.
Miss Fame is bringing 'Beauty Marked' to Australia later this month for the very first time. Listing the cities she will be visiting, Fame asked me if she pronounced Sydney and Melbourne correctly (she did) and called out across the room to ask her husband if she will be bringing her dancers on the Australian tour (she will).
"I like to recreate the visuals from my videos," she said of her live shows, "People who have seen 'Rubber Doll' or 'Insta-Fame' get to see and experience the visuals of the video and hear me sing live. I love to have accessories on stage, I'm obsessed with beauty so having gorgeous men near me is an added bonus to being a glambassador."
"I might even consider bringing boys from Australia onto stage with me," she adds, "It's always going to be a visual experience."
Leigh Hill
Miss Fame's debut album 'Beauty Marked' is available now on iTunes.