Moira Deeming ousted from Liberal party after bitter feud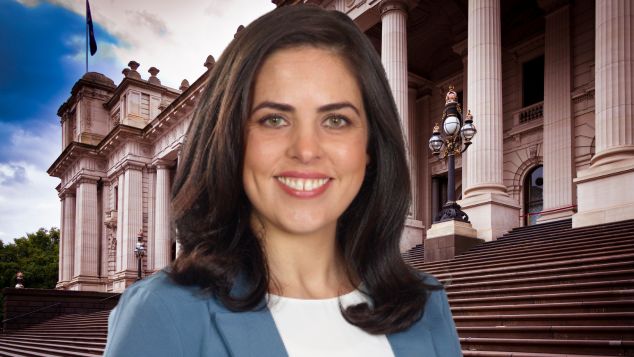 The Victoria Parliamentary Liberal party have ousted conservative MP Moira Deeming from their ranks.
Liberal leader John Pesutto first pushed for Deeming to be removed from the party after she participated in a 'Let Women Speak' event hosted by British provocateurs and anti-transgender campaigner Kellie-Jay Keen.
Six weeks ago a compromise was reached which saw Deeming suspended from the party room for nine months, but a disagreement over why she had been suspend dragged on for weeks and played out in the media and minutes from the meeting were leaked to Sky News.
Last week Deeming sent an ultimatum to Pesutto demanding he make a public statement and declare that she was not a Nazi or a Nazi symphathiser, threatening legal action if he did not comply by her deadline. Pesutto did not respond to the deadline but said Deeming was free to consider her options.
"If Moira Deeming is going to take action to sue me – and effectively sue the parliamentary Liberal party and the Liberal party – I think that would be a matter for her to consider," he said.
"She's free to do what she wants." Pesutto said on 4th May.
Days later Deeming appeared to back down on the threat, saying she was only ever asking for legal advice regarding her representation in negotiations with the Liberal leadership team. Deeming said media reports suggesting she was ever considering legal action against Pesutto and the party were completely false.
Five of her colleagues demanded a new expulsion motion, saying Deeming had continued to bring the party into disrepute. Yesterday Deeming served Pesutto with a concerns notice alleging that he had defamed her.
This morning Liberal MPs voted on Moira Deeming future for a second time and this time she was banished from the party room. She will now move to the cross-bench and serve as an independent MP.
Fellow conservative MP Renee Heath has also been sanctioned by her colleagues and stripped of her role as party secretary. Heath has previously denied being responsible for the leaking of the internal minutes of the original expulsion meeting to the media.
James Newbury, one of the five MPs who called for the fresh expulsion motion, has spoken to reporters after the meeting.
"You cannot sue your boss and expect to keep your job. Suing your party and your leader is a gross act of betrayal. But we are moving forward united as a team." Newbury said.
"Moving forward" has been a comment stated by many MPs as they left the meeting. Deeming was not at the meeting which brought her time as a Liberal MP to an end.
OIP Staff
---

You can support our work by subscribing to our Patreon
or contributing to our GoFundMe campaign.