Moira Deeming to face fresh expulsion vote from the Liberal party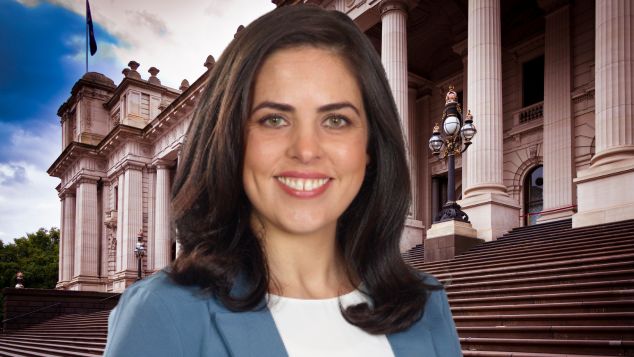 Victoria MP Moira Deeming will face a fresh vote to expel her from the Victorian Liberal party. Five of her colleagues have urged leader John Pesutto to revisit accusations the first term politician has brought the party into disrepute.
Deeming, who was suspended from the party room for nine months following her participation in the Let Women Speak event hosted by British anti-transgender campaigner Kellie-Jay Keen, will be invited back in for another meeting on Friday to decide her future with the party.
The five MPs calling for the new expulsion motion are former leader Matthew Guy, alongside James Newbury, Cindy McLeish, Roma Britnell and Wane Farnham.
"Today I received a notice of motion from five Liberal Party MPs seeking the expulsion of Moira Deeming at a party room meeting that will be held next Friday, May 12," Pesutto said on Saturday.
"I remain firmly committed to leading a disciplined, united and inclusive Liberal Party that will continue to take the fight up to the tired, corrupt and incompetent Andrews government.
"Our focus is on Victorian families and small businesses who face a horror state budget with higher taxes and cuts to key services and infrastructure projects."
Last week Deeming appeared to threaten Pesutto and the party with legal action over her current suspension. A widely distributed email on Thursday saw Deeming giving the Opposition leader an ultimatum and deadline to make a public declaration that she was not a Nazi or a Nazi sympathiser.
"If by 2pm today, we do not have an agreed upon statement that exonerates me from the charges laid against me, (as per the partyroom agreement) I will consider that the leadership have failed to honour the suspension agreement and I will be forced to challenge it officially, demand re-entry to the party room and instruct my lawyers to commence legal proceedings." Deeming reportedly wrote in an email.
On Saturday morning Deeming appeared to be walking back the threat, saying she had never contemplated legal action.
"I have never once considered suing the Liberal Party and reports that I have, or have planned to do so, are false," she said in a statement.
"I only contemplated legal assistance (e.g., mediation) as a way of helping me negotiate to settle the conditions of my suspension and to see what was agreed to in the party room in March honoured."
Today Pesutto said he would back the fresh motion to remove Deeming from the party.
'I think what those five members of the party room have done reflects the concerns that many in the party room, including myself, share about needing to resolve this," he said.
OIP Staff
---

You can support our work by subscribing to our Patreon
or contributing to our GoFundMe campaign.