Monday Book: Beyond Belief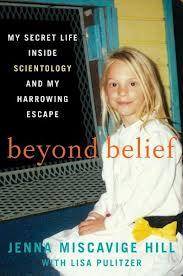 REVIEW
Beyond Belief: My Secret Life Inside Scientology and My Harrowing Escape
by Jenna Miscavige Hill
Harper Collins
The Church of Scientology is as renowned for its secrecy as it is for its controversy. Jenna Miscavige Hill, the niece of its leader David Miscavige, was a third generation Scientologist. She spent most of her life in the inner sanctum of the church and everyone she knew from an early age was a Scientologist.
There was no god, no prayers, no heaven and no hell as the philosophy of Scientology centred on programs that promoted self-awareness and achieving one's potential. Jenna was to find out early on that families and children lost priority to the "church's larger mission" and at 4 years of age, she was separated from her parents.
Her disturbing autobiography exposes the fear, intimidation and control that ruled her life for the next 16 years. At the time, she did not question what was going on but as she grew older, she became disillusioned with all the rules and punishments. She was certainly sick of the weekly E-meter checks and the obstructions that were placed in her way every time she got close to someone.
She eventually realised that she had no control of her life and she blamed the church for destroying her family. This first ever insider's exposé does not hold back on the on the oppressive and alienating culture she was forced to grow up in – "a place that had to control every thought and move", and her eventual escape from the church reads like a crime thriller.
Lezly Herbert
Click on the image below to visit more stories from our BIBLIOPHILE collection.