Monday Book: Mammoth Book of New Erotica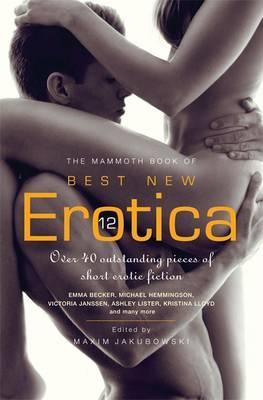 Mammoth Book of Best New Erotica 12
Edited by Maxim Jakubowski
Allen & Unwin
The highly successful trilogy Fifty Shades of Grey showed that there was a strong demand for erotic fiction catering for non-vanilla tastes. Maxim Jakubowski has been publishing collections of erotically-charged stories since
1995 and year after year, authors continue to amaze him with "the breadth of their sometimes wonderfully twisted imaginations". His latest cocktail of stories range from tales of debauched ancient times and dragon masters to tales involving time traveling and even aliens. There are erotic encounters with ghosts, vampires and Frankensteinian creatures. Even though there is quite an emphasis on the dominant male and the subservient female, this is not always the case. "In the outside world I am meekpolitenicegood, all these characteristics ascribed to girls like me, I play them like a virtuoso. In my head I taste and fuck the world" says Aimee Nichols' character.
The 48 short stories include plenty of voyeurism, a Bangkok horror story, a Valentine's Day with a twist, school boy antics and the adventures of a transsexual in Tijuana. As a consequence of the Fifty Shades of Grey tsunami, BDSM features in many of the stories and both young and old suffer exquisitely. Of course quite a lot of nymphomaniacs feature in the ribald vignettes that can be savoured in small portions.
Lezly Herbert
Click on the link below to read more stories from our BIBLIOPHILE collection.