Monday Book: Parable of the Two Sons
Parable of the Two Sons
by Christopher Bevan
Goanna Press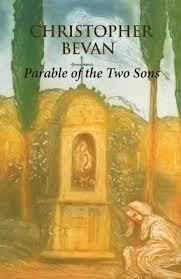 Ken Wainwright and Brent Fiske had been boyhood friends who lost their wives in the same car accident. Raising their children by themselves, they supported each other and went on an annual camping trip together for a break. Augie and Fabe Wainwright grew up with the support of Ken's brother Jack who moved in to care for them. The boys left home, got on with their lives and didn't have much to do with Ken or Jack in the last 4 years of their lives.
They were grateful when Brent Fiske moved in with his to take care of them when Ken and Jack's health declined. The arrangement was mutually beneficial as Brent was broke and had nowhere to live, and his two children were off living their lives. When Ken and Jack died within a short time of each other, Augie and Fabe find themselves in a court of law fighting for their inheritance. How well did they know their father and what is the lesson in the parable of the two sons?
Brent has nothing to lose and the lawyers are grand chess masters. There's some complex lawyers' lexicon but the main thing the judge has to rule on is whether Ken and Brent were mates or a "couple of old queers falling in love". This is a complex and interesting novel that deals with more than the blind goddess of justice. The trial forces the Wainwright boys to look beyond the superficiality of relationships and work out the right action for themselves.
Lezly Herbert
Click on the image below to visit more stories from our BIBLIOPHILE collection.