Monday Book: Saving Private Sarbi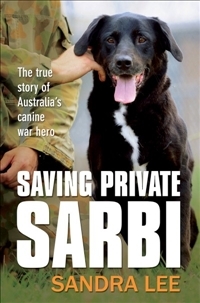 Saving Private Sarbi
by Sandra Lee
Allen & Unwin
Sarbi's mother was a pedigree black Labrador Retriever who had a one-night stand with a good-looking Newfoundland from next door when nobody was looking. The resulting pups, Sarbi and brother Rafi, weren't of much worth to the Labrador breeder, but they were priceless additions to a family with three children who lived in Bowral. When the family had to move to rented accommodation in Sydney three years later, the lively pups joined the military and learned how to sniff out bombs. Australian author and investigative journalist Sandra Lee has written many best-selling non-fiction books and was inspired by Sarbi's story. She seems to know everything about dog breeds and puppydom, and she investigates the history of dogs who have served humans through the ages and how they have been utilised by the military.
Sandra Lee managed to gain access to internal workings of the EDD section of the Australian Army and many of the personnel shared their experiences for her comprehensive book. She outlines the training that goes into creating an Explosive Detection Dog (EDD), relays stories that reveal the intense bonds between the dogs and their handlers and traces Sarbi's time in Afghanistan. Lee takes the reader to Afghanistan where the heat and dust are particularly difficult for all the military personnel as well as the working dogs and many have lost their lives. Sarbi did several tours of duty but when Sarbi's handler was injured in an ambush, she disappeared and was Missing in Action for over a year. Sarbi made headlines when she was found by an American Special Forces officer, and it was announced that unfortunately she couldn't return to Australia because her quarantine permit had expired. There will be tears as you read the story of Australia's canine war hero, but there is a happy ending and Sarbi's portrait hangs in the Australian War Memorial in Canberra.
Lezly Herbert

Click on the image below to visit more stories from our BIBLIOPHILE collection.