MoveMe Festival: Decadance Perth 2016 goes beyond the limits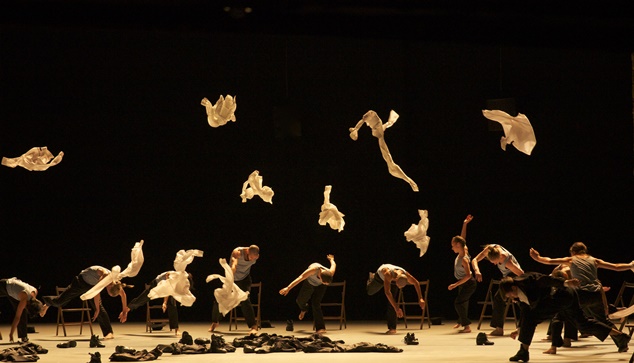 Decadance, a constantly evolving work by internationally acclaimed choreographer Ohad Naharin (Batsheva Dance Company), in partnership with STRUT Dance. The performances are the greatest hits of Naharin's work from the last 25 years evolving into Decadance Perth 2016.
Decadance has been made available exclusively to STRUT Dance, the National Choreographic Centre, a membership organisation offering internationally benchmarked training, collaborative and performance opportunities unique in Australia; based in Perth WA. Through the generosity of Ohad Naharin and a working relationship with STRUT Dance Director Paul Selwyn Norton; which spans over two decades.
Decadance Perth 2016 has seen six workshops and 180 participants discovering the world of Gaga – Naharin's Movement Language in the culmination of last night showing at the State Theatre. A three-year journey to reach this incredibly special edition curated for STRUT Dance.
16 Australian dancers perform a new version – Decadance Perth 2016. This is the first time Naharin's work has been performed outside a major company and exclusively by an Australian cast.
Ohad Naharin has been hailed as one of the world's preeminent contemporary choreographers. He has been Artistic Director of Batsheva Dance Company since 1990 and is the originator of the innovative movement language, Gaga.
Developed over many years the language of Gaga has much to do with delicacy, with small gestures and still being able to punch. It is about thinking of movement as something that can heal.
Gaga is about giving dancers a sense they can go beyond familiar limits, it is about the power of imagination. Gaga workshops and rehearsals work without mirrors, mirrors are forbidden. Gaga is form and clarity of form, it doesn't come from looking at yourself in a mirror. Gaga is about sensing where you are in space and the distance of your body parts from each and from your colleagues and the universe.
Gaga is about what the dancer already possess, not just about making  better dance athletes. It is about listening to something beyond the athletic side of the dancer, the soul, the connection between your demons, fantasy, passion, longevity; to do more with less. Realising you can grow old and still produce magnificent moments.
The performance began from the moment the audience entered the beautiful Heath Ledger Theatre, a solo male dancer on stage performing Gaga to the sounds of a 1950s cocktail lounge music while the audience took their seats.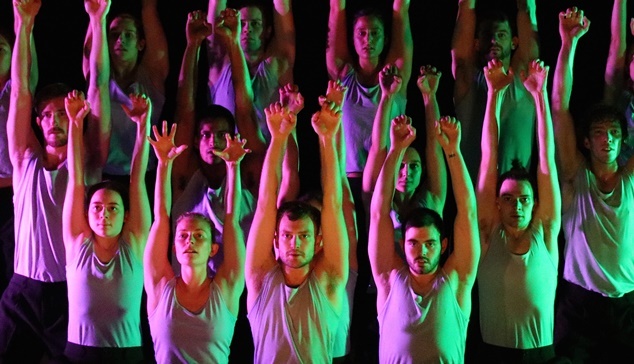 There was music by Goldfrapp, the crooner Dean Martin, a Techno House track, the Israeli folk song "Hava Nagila" sung in Hebrew, Electronic and Cocktail Lounge Music, an enchanting Bollywood love track, and a haunting version of Somewhere Over The Rainbow as a Techno remix. What an incredible and eclectic mix of sounds to accompany and overlay the movement language of Gaga.
Multiple layers of meaning, some which I understood from my own cultural filters and many others I needed to ponder and research to find a deeper understanding of the work.
The dancers in one segment were dressed in Hasidic Ultra-Orthodox garb. These dapper outfits included long black coats and large black hats with pristine white shirts. All the dancer of every gender were costumed in the same attire; a form of symbolic drag and mixing up of gender roles. They drew on audience participation and gathered people from the flock onto the stage. Here we witnessed a mashup of dance styles from 90s RAVE culture to the dance of Tango. This ending with an energetic traditional Hasidic Jewish circle dance. This dance is a tool for expressing joy and is believed to have a therapeutic effect. It purifies the soul, promotes spiritual elation and unifies the community Traditionally danced at Jewish weddings and other joyous occasions in the Jewish community. One audience participant was extremely enthusiastic and danced with the circle keeping up and stepping up the pace.
The work is segmented into 10 parts (DECA) with multiple layered cultural meanings. There was an intimate waltz with two male dancers revealing the beauty of dance and same-sex couples. Another segment several dancers walked on stage, forming a central line and each revealing a rib by lifting up their garments. Two rows of dancers formed rows on both sides, one side falling the other stretching and holding strong. Another segment 3 dancers one male two females explored the relationships dynamics of a 3-way love affair; holding embracing falling and letting go.
A powerful moment in the performance when 16 dancers dressed, formed a semi circle sitting on chairs. 15 of these dancers stripped and peeled back the layers, shoes, shirts, trousers throwing them into the air one by one until only the generic grey underwear was worn; with the 16th dancer repeating gestures which seemed as though they were in agony writhing on the floor and pulling back to an original position. The illusion of beauty and the fine line that separates sanity from madness; fatigue and elegance; chaos.
As with any work of art, the viewer will respond with their own set of cultural values and personal experiences. If you were unaware of the complete meaning of work there is space to allow for your own interpretation with the accompanying music, gestures and rhythm of the dancers.
Like any great work of art or favourite book/film/song, multiple viewings are recommended. Imagine how many times you might have viewed your favourite film, re-read a book, watched the re-runs of a favourite sitcom or for many people listened to your current favourite music track repeatedly. I recommend this dance performance to everyone both the uninitiated and initiated to contemporary dance. If you get the chance to view a second time then do, however it is only on for a limited 3 performances during the MoveMe Festival.
Guy Gomeze
Image:- Maxim Warrat
Gaga: The Movement of Language has its final performance tonight at Heath Ledger Theatre. Tickets available from the MoveMe Festival website.