Mt Hawthorn Streets & Lanes Festival springs to life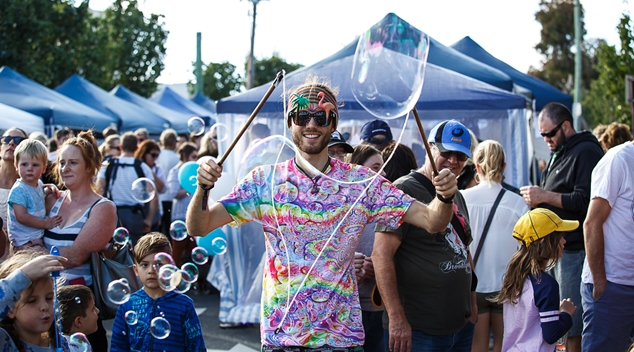 The much loved Mt Hawthorn Streets and Lanes Festival is back this Sunday with an all-ages celebration in the Town Centre.
As many as 70,000 people are expected to his the streets of Mt Hawthorn for tasty eats, tunes, performers and art, as well as one-off outdoor restaurants, cafes, pop-up bars, family entertainment and heaps more.
Event Director Jimmy Murphy said the annual festival is without a doubt the highlight of the year for the town.
"Opening up the strip really lets it come to life," Murphy said ahead of the weekend's event, "People can walk down to see and do things they might not do on other days of the year."
"If you're a Mount Hawthorn local, you'll get a new appreciation of your suburb. If you're an out-of-towner, it's an opportunity to experience first-hand why people just love coming here."
Highlights from this year's program include live music from Steve Hensby, Stoney Joe and Junkadelic, the hand-crafted Ladybird Market, roving karaoke, Silly Town Circus and a collaborative street canvas to get creative with!
Mt Hawthorn Streets and Lanes Festival is on this Sunday May 6th from 11am to 7pm. Head to mthawthornstreetsandlanes.com.au for the full run-down of the day.