Nat Latter is running for council in Bayswater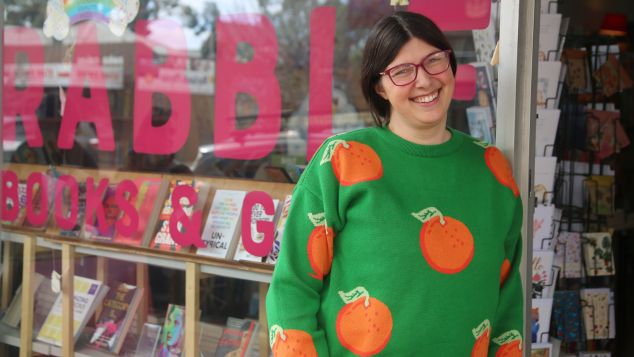 Nat Latter is running to join the City of Bayswater Council representing it's South Ward.
Latter has lived in the area for over 20 years but people really got to know them through Rabble Books and Drag Queen Storytime. They spoke to OUTinPerth about why they're putting their hand up to represent their local community on the council.
What made you want to run for council?
I've been frustrated watching Council the last few years and felt like it had lost its way. Trying to campaign for policies that actually support our tree canopy targets and after school care, it felt like coming up against a brick wall – so I started to wonder what it would be like to be on the other side of that wall!
I think the work of local council, so close to our daily lives, needs to really represent the community interest. It shouldn't be a place for playing politics. I see it as a natural extension of the community advocacy work I already do and love.
You're a local business owner, what would you like to see the council doing to improve business in Maylands and across the city of Bayswater?
In Maylands in particular, we need to revitalise the town centre and Eighth Ave in particular. There's so many empty shops, and so many businesses are struggling right now – some say it's the worst business has been in a decade.
The City has an Economic Development Officer that can help with this, and the community has amazing ideas for temporary activations to help give life and vigour to the strip to start bringing in more tenants and customers. We need to provide strategic guidance and support to implement these ideas!
I also think we need a stronger arts scene here. Lots of arts organisations recently pushed for the City to employ an Arts Officer (which Council passed but depends on the budgeting process next year), to give strategic direction to our arts program.
For people who don't know you, how would you describe yourself?
I'm community minded, and found my calling when I opened Rabble and discovered I could use a shop as a vehicle to build community. I'm very hard working, as you need to be to start a small business with a newborn and successfully navigate the rollercoaster of the last 5 years in business.
I care about the future we're building and see the work of Council as an extension of the advocacy work I love – except you get to advocate on behalf of a much larger group of people and in a way that has a direct impact on our lives.
Some say local government is about roads, rates and rubbish bins – where do you see the boundaries of responsibility?
Those are important responsibilities but there is so much more that Council does to shape the neighbourhoods we live in. Some stand outs are responsibilities for trees, wetlands and other natural areas, and the arts.
I'm passionate about both of those and see how local government can have a direct and lasting impact on our environmental future and the kind of arts community that is nurtured. But roads and rubbish are really important areas where we can have a real impact on the environment and building inclusive communities.
What have you heard from local people as you pound the pavement and knock on their doors?
Many people don't have a lot of faith in local council to represent the community interest, and I understand why! It's the same frustration I've had. People want to understand decisions, be listened to, and have free and open discussions on the issues.
Probably the most interesting part of door knocking is learning about so many micro-local issues that are common to a particular street or block. I don't think you can really understand those issues without getting out there and talking directly to residents.
Who are your leadership idols, whose inspired you in the past?
I don't have a leadership idol specifically! I'm inspired by people in the community who step up to volunteer and work on projects that they care about. Ordinary people who devote a big part of their free time to improving our community, often without expectation of recognition or reward.
What's currently not being addressed by the local council, what do people in your area want to see more of?
People want more transparency and to see the community interest represented in Council rather than political games. They want good representation and public debate rather than decisions being made behind closed doors.
They want stronger environmental policies, and policies that support the outcomes of community consultation rather than undermine them. They want leaders that respond to their needs and help to create a more sustainable, inclusive and community-first City.
Does owning a bookshop give you extra skills to tackle all the reading of council papers and reports?
unfortunately the narrative tension is not very strong in these reports so my love of reading novels doesn't translate so well! But a decade of academic research in fields like public policy has definitely given me the right skills!
Find out more about Nat's campaign.
Details of how to vote
Most local governments elections in WA will be conducted as postal elections. All enrolled electors will be mailed an election package (ballots) in the post. These should be filled out, signed and returned by reply-paid post (or hand delivered to the local government office) by 6pm Saturday 21 October.
There are however eight jurisdictions which run in-person voting. These are Broome, Cambridge, Cocos (Keeling) Islands, Cranbrook, Derby / West Kimberly, East Pilbara, Menzies, and Serpentine Jarradale.
Graeme Watson
---

You can support our work by subscribing to our Patreon
or contributing to our GoFundMe campaign.