New study shows trust in politicians plummeting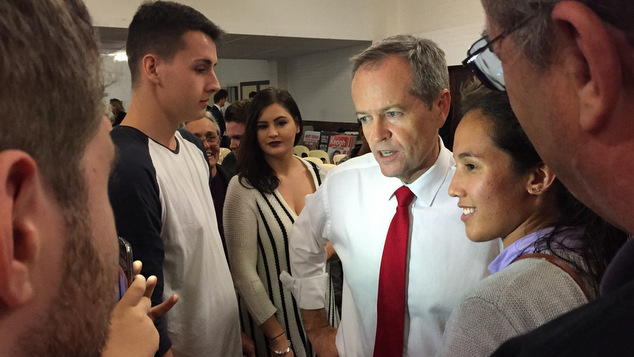 A new report from the Australian National University (ANU) has shown that Australian voters are rapidly losing trust in politicians and becoming disengaged from the political discourse.
While Australians are becoming increasingly frustrated with their elected representatives, the study also showed huge support for marriage equality, our immigration program, indigenous constitutional recognition, medically assisted euthanasia and abortion rights.
The study has also found low levels of popularity for Australia's political leaders, continuing the trend since the initial popularity of Kevin Rudd following his 2007 election victory.
Lead researcher Professor Ian McAllister said the Election Study was a wake-up call to Australia's political leadership as it found Australia was not immune from the problems facing democracy in Europe and the United States.
"Public satisfaction with our democratic processes and public trust in the politicians we elect are at some of the lowest levels ever recorded," Professor McAllister said.
"What we are seeing in Australia are the beginnings of a popular disaffection with the political class that has emerged so dramatically in Britain, United States and Italy."
ANU has conducted the Australian Election Study following each election since 1987, but with public opinion on some issues tracked back to 1969. The latest survey is based on interviews with 2,818 people in the three months following the July 2 election.
Key Findings
Record low levels of interest in the 2016 election, with only 30 per cent of Australians taking a good deal of interest in the campaign;
A record low of only 34 per cent followed how to vote cards, a drop of almost 10 points since 2013;
40 per cent are not satisfied with democracy in Australia, the lowest level since the 1970s;
Only 26 per cent think people in government can be trusted – the lowest number since it was first measured in 1969;
A record high 19 per cent say they don't feel close to any political party, or identify as Labor, Liberal or Greens voters;
Health and Medicare, Economic Management, Education, and Taxation were the main issues for voters;
Prime Minister Malcolm Turnbull had a higher popularity rating (4.94 out of 10) than Opposition Leader Bill Shorten (4.22);
74 per cent think the government makes little difference to household finances, and 69 per cent think government policies make little difference to the country's finances.
On leadership, the Australian Election Study found Opposition Leader Bill Shorten had more negative evaluations than any major party leader since the leadership questions were first asked in 1993.
The survey also found Australians are growing less likely to align with one of the major political parties.
"Partisanship has declined gradually over time to a record low for both the Labor and Liberal parties, at 30 and 33 per cent respectively, while numbers who align with no party at all, or who align with the Greens, have been steadily rising over time," said ANU researcher Sarah Cameron.
"The 2016 election continued the trend of elections being won despite low levels of leader popularity.
"Kevin Rudd's 2007 election was the last time a newly elected Prime Minister enjoyed a high level of popularity among Australians." Cameron said.
The study also measured Australian views on a range of social issues.
Study shows huge support for marriage equality
The study also showed that 70% of the people surveyed supported marriage equality.
Director of The Equality Campaign, Tiernan Brady, has welcomed the report saying it showed that Australians are disenfranchised with the political process. While highlighting how they continue to see through the politics to the bigger issues like marriage equality.
"The majority of Australia backs marriage equality, but it is clear the world of party politics is getting in the way of delivering marriage equality. We all need our politicians to work together to make this happen.
"Marriage equality must not be seen as a political victory of one party over another, our equality is not the property of anyone.
"This reform presents an opportunity for parliament to restore some of the faith they have evidently lost from the public in a difficult time for politics.
Co-Chair of Australian Marriage Equality (AME), Alex Greenwich said this year has been an incredibly trying yet successful one overall on the path towards marriage equality.
"We are ending it with more supporters than ever before in our parliament, a campaign full of resources to win over even more hearts and minds, and amazing support from across the country and the world.
"The campaign will continue to help Australians tell their story of why marriage equality is so important to them and make sure that their message is heard loud and clear in Canberra," Greenwich said.
Just.equal have also highlighted the study arguing that the government could easily restore faith in the political system by addressing marriage equality.
"The Government has an excellent opportunity to restore faith in the political system and boost its own support by allowing a free vote so marriage equality can pass." The group's spokesperson Ivan Hinton-Teoh said.
"Australians desperately want the Government to show leadership on issues like marriage equality instead of continuing to delay and frustrate reform."
The Senate is currently holding an inquiry into the Government's proposed marriage amendment bill and just.equal is encouraging everyday Australians to write their own submission.
Hinton-Teoh said he is particularly concerned by the Government's proposal to broaden anti-discrimination exemptions specifically targetting LGBTI couples and potentially their families.
"Each of us has an opportunity to help guide the Senate towards support for the best marriage equality bill ever. I encourage everyone to contribute at this critical moment."
Submissions can be completed at www.equal.org.au/bestmarriagebillever
 OIP Staff