Nick Lowe returns to Australia for the first time in 7 years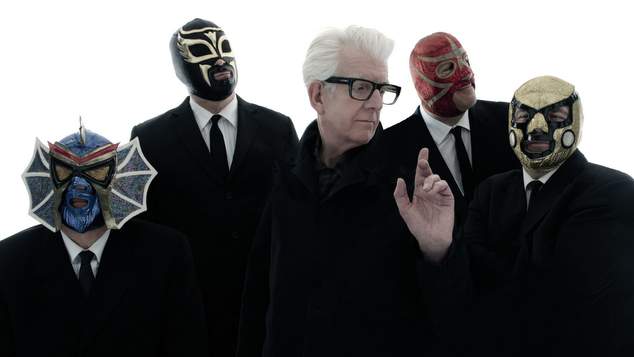 Nick Lowe, producer, songwriter, author and pop culture icon, will return to Australia in 2020 for his first tour in seven years.
Lowe will be touring with Los Straitjackets, a band known for channelling the peak years of the guitar instrumental, and for performing in the famous Lucha Libre fighting masks.
Tickets go on sale from Monday, 23rd September for a tour that will see Lowe play Sydney's Enmore Theatre on Sunday 16th February, Melbourne's Forum Theatre on Tuesday 18th of February, before heading up to Brisbane for a show at The Tivoli on Wednesday 19th February, then Perth's Astor Theatre on Friday 21st February before bringing things to a close with a show at The Gov in Adelaide on 23rd February.
Nicholas Drain Lowe, aka Basher, was not just producer for the cream of the British New Wave – Elvis Costello, Pretenders, Graham Parker, The Damned, Wreckless Eric – and had a burst of fame on the pop charts himself with songs such as Cruel To Be Kind and I Knew The Bride When She Used To Rock And Roll. Nick Lowe also wrote (What's So Funny 'bout) Peace, Love And Understanding, made a modern classic by Elvis Costello & The Attractions.
In the second half of his career, Lowe has become a songwriter of elegant, witty and sometimes quietly devastating songs that draw from the same well as pre-Beatles pop, early rock'n'roll and the classic songbooks of Britain and the USA, and are sung in a superbly relaxed croon.
In a series of creamy-sounding albums from 1995′s The Impossible Bird he's written about broken hearts and lonely rooms, stoplight roses bought too late to mend a rift, and those days all you want to do is stay in and make love.
Now, on his first tour of Australia in seven years, Lowe offers an old-fashioned revue show, with the roistering fun of Los Straitjackets. You can hear Lowe and Los Straitjackets, together on their new four-track EP, Love Starvation.
Tickets are on sale from www.pottsentertainment.com.au, check out Lowe playing a Tiny Desk Concert at NPR a few years ago. 
OIP Staff
---