One last time for The Family Law: Trystan Go talks Season 3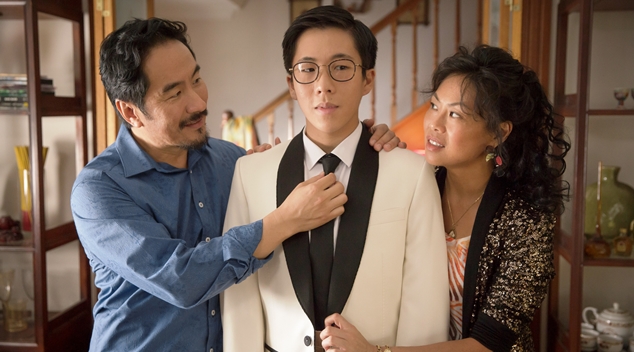 The final season of The Family Law comes to SBS this month and once again we get to see teenage Benjamin Law tackle the challenges of adolescent life including bullying, siblings, puberty, camping and discovering who you really are.
OUTinPerth chatted to actor Trystan Go who plays the fictional version of Benjamin Law in the comedy. Trystan said the challenge of playing the teenage version of the well-known author brought mixed emotions.
"I think playing someone as iconic and beautiful as Ben is both really daunting, and also really fun. Even before The Family Law I'd read his articles in the paper, and seen him on television, so I knew how well known he was.
"But then when I read the scripts of The Family Law I thought I had this responsibility to portray the teenage version of him as authentically and realistically as possible so the audience could see all the facets of his endearing personality."
In the final six episodes of the show, Benjamin gets to tackle a lot of big challenges.
"Season three really is is Ben's big season, it's got a nice coming of age tone to it." Trystan said. "Ben gets invited to a rowdy teenage party, he learns to stand up to bullies and he gets to got to a school dance, all while juggling being the middle child in a family of seven.
"To make growing up even harder he's faced with his own self discovery. So he experiences denial and then acceptance of who he is, but it's all told in a really hilarious and compelling way."
Trystan said he'd had the most fun during the filming of the show's third and final season, and it had brought him a lot of new acting challenges.
"Filming this season was my favourite yet, in terms of acting I think I was challenged more than ever, because of the emotional journey Ben goes through, but while I have to convey all that emotion, I also have to be his classic funny self. So it was challenging to find that balance."
Trystan discovered the producers of the show were looking to cast someone for the series when his aunt saw the audition notice on social media. It was the first time he'd auditioned to work on a screen production.
"I had lots of call-backs and about four additional auditions. I worked with Takaya Honda and Anthony Brandon Wong to make sure we had the right chemistry." he explained. In the series Wong plays his on-screen father Danny, while Neighbours star Honda plays handsome neighbour Klaus.
Filming the series sees Sydney based Trystan get to spend several months in Queensland while the production is being created, something which he sees as partly a holiday.
"It's a bit like a holiday, you get to go and explore another city on the weekends, but I'm still in school so I also have lots of school work to fit in alongside filming, but they have tutors for me."
Trystan said the show's mix of themes relating to culture, race, age and sexuality was something that a lot of people could connect with.
"I've sort of been growing up with the fictional Ben, it's been really interesting drawing parallels between us three."
Trystan notes that sometimes he's more successful in real life than his onscreen counterpart. "In Season Two Ben was trying for student leadership but ended up running away from the microphone, but in real life I was successfully elected to being School Captain, so I guess the show taught me what-not-to-do."
Last year Trystan also appeared in the sci-fi movie Occupation, and he's currently filming it's sequel. He's also set to appear in the upcoming comedy drama series Frayed, but his next challenge is a stage role, his high school production of Fiddler on the Roof.
The Family Law will return 12th January at 8.30pm on SBS and SBS VICELAND
Graeme Watson