One Nation candidate resigns just days after being selected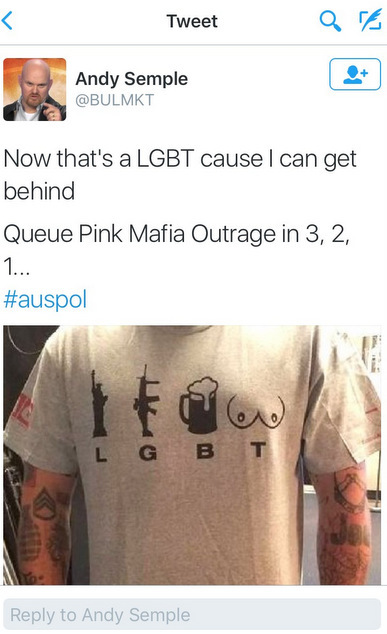 One Nation's Andy Semple has stood down as a candidate for the upcoming Queensland election after the party asked him to delete several posts from his Twitter account.
Party leader Pauline Hanson announced Semple would be the candidate for the seat of Currumbin on Sunday. Semple was one thirty five candidates revealed on the weekend.
Just days later though, the aspiring politician has walked away from the party after he was asked to delete some content from his social media accounts.
Among the posts that have been highlighted on stock brokers account was a post that featured a man wearing a T-shirt with the acronym LGBT portrayed as representing 'Liberty, Guns, Beers and Tits' via images of the Statue of Liberty, a machine gun, an overflowing glass of beer and a pair of breasts.
The candidate had also posted derogatory comments in response to posts from Labor's Senator Penny Wong, who is gay.
On Twitter Semple said he was withdrawing his candidacy because the party clearly only liked "certain types of freedom of expression".
Semple told The Gold Coast Bulletin that criticism of his comments was pathetic.
"I say on my Twitter feed that political correctness stops here. I'm sick of the BS. I'm not going out of my way to say this person is a mongrel. I'm just tweeting my opinions – people either like what I say or don't like it," he told the paper.
As for what I have tweeted over many years – that's my opinion and sure some poor snowflake out there won't like what I have to say," Semple said.
"But by God as a free Australian I have a right to express my opinions and its quite pathetic that the ALP and LNP think they can score some win because of something I have tweeted in the past."
Aside from the LGBTIQ community, Semple also posted comments describing vegans as "miserable people" and said Muslim immigrants needs to realise that they were in Australian to assimilate and not colonise. Semple had also made comments his displeasure at seeing women with armpit hair and criticism of women Muslim women who wore burkas.
Semple's resignation follows the weekend announcement from Western Australian senator Rod Culleton that he's quit the party to continue as an independent. Senator Culleton is currently facing a number of legal issues that may prevent from continuing in the role.
Despite the two resignations this week party officials are adamant that their vetting process for political candidates is sufficient. Party leader Pauline Hanson visited Western Australia yesterday to personally screen potential One Nation candidates for the WA state election in 2017.
OIP Staff