OPINION | The War on Rainbows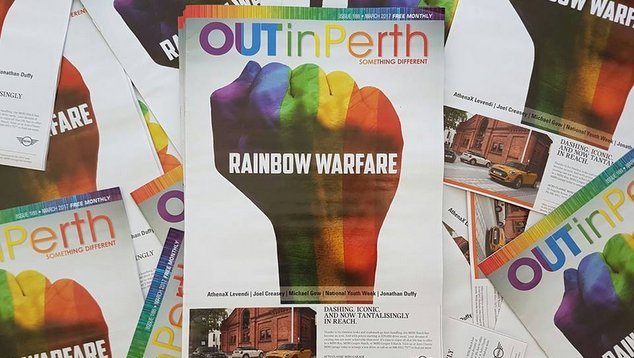 There seems to be a war on rainbows, with the LGBTI community's symbol of inclusion and diversity being challenged and deemed an offensive by our most vocal opponents.
The Australian Christian Lobby complained about the ACT government flying the flag on government land. Managing Director Lyle Shelton said the rainbow had become a political symbol for a range of issues ranging from surrogacy, adoption rights, marriage equality, free speech and perceived opposition to freedom of religion.
OUTinPerth revealed that One Nation candidate Michelle Meyers is under the impression that the reason so many people support marriage equality, including the majority of people of faith, is because we poses a covert Nazi or Soviet styled mind control program.
It's the biggest story we've ever published, it was re-published by everyone from Cosmopolitan to The Sydney Morning Herald. The Prime Minister was asked about it in question time, and people are still sending tweets about it in Scandinavia.
We also revealed that Meyers feels sad when she sees a rainbow pattern. She said the rainbow has become an emblem for a "sexually corrupt and morally bankrupt society".
"The rainbow has been raped and sullied. its colors [sic] have been purloined and paraded as a trophy of the culture war being waged worldwide. But its fruits are bitter, it's victory hollow and its legacy toxic." Meyers said. In response the world filled the candidates social media pages with rainbow emojis.  

Senator Eric Abetz piped up in Senate Estimates to demand the department of Finance explain why it once had a rainbow flag in it's foyer. The Tasmanian senator demanded to know if the department would be giving equal exposure to the iceberg loving, rainbow noose group – The Marriage Alliance.
Things got even more bizarre when Abetz added some humour to proceedings by announcing the rainbow flag being the symbol of a hostile nation at war with Australia. Apparently some activists declared an island an independent gay nation over a decade ago and there's never been a cease-fire.
Miranda Devine published a column arguing that the Army should not be participating in the Mardi Gras parade because it was a politically charged event. Devine took offence at the army for issuing a lapel pin that featured a rainbow.
The baton was then passed back to Lyle Shelton who made an appearance on the Karvelas program on SKY News to continued to argue that the army should be avoiding association with rainbows, as it's a symbol for so many contentious issues.
Here's what I know. Rainbows are symbol of existence, belonging and inclusion. It's a motif for community, being engaged, respect and not being judgemental.

So wear a rainbow, fly a flag, put a pink triangle on your sleeve, wear a coloured handkerchief in your back pocket, put a green carnation in your lapel, pierce your right ear and gather all your friends of Dorothy and be loud and proud.

A rainbow is not a symbol encapsulating every political belief of every LGBT person holds, no more than the a cross is a symbol of every misdeed committed by a believer.

Graeme Watson: from this month's OUTinPerth