Orange Is The New Black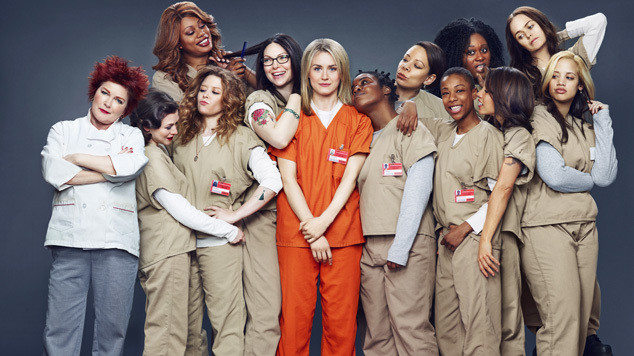 When I heard that Netflix was airing an original series created by Jenji Kohan (of Weeds fame) about a women's prison that had a lesbian story line, I thought 'Holy Bad Girls, Batman. This is going to be Epic'  But what was I going to do here in Australia, with no confirmed airdate on the horizon? Panic, that's what. I Skyped my bestie in Brooklyn, and said "I know its 6am over there girl, but we're watching 13 hours of TV right now." She pointed her computer at the TV screen, and we never turned back.
Based on a memoir of the same name by Piper Kerman, the show follows Piper Chapman (Taylor Schilling) as she trades the comforts of cushy life with her boyfriend (Jason Biggs) for an orange prison uniform and sanitary-pad slippers. Convicted of a decade-old crime that she committed with her drug dealing girlfriend Alex (Laura Prepon), Piper's character allows viewers to explore the trials and tribulations of prison life.  There are so many ways in which this show is ground breaking. It portrays queer characters (referencing the Kinsey scale!), characters of colour, and it deals with class and religious divides… sometimes in ways that defy stereotypes, at times sympathetically, and always in ways that keeps the audience thinking.
There are too many notable characters to mention. There's our own (Australian) Yael Stone, Kate Mulgrew (Captain Janeway!), Natasha Lyonne, (cult icon from But I'm a Cheerlearder), lesbian icon Lea DeLaria. Added into the mix to make the ensemble even more fabulous is producer, actress, and transgender activist Laverne Cox, who is no stranger to breaking barriers on TV. She plays Sophia Burset, a trans* woman with a nuanced and, at times, heartbreaking storyline.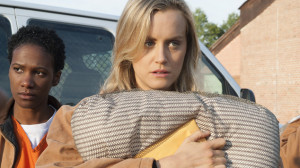 Another striking element of the show is the phenomenon that is Alex Vause. Played to perfection by Laura Prepon (of That 70's Show fame), Alex is the ultimate lesbian femme fatale with a heart. And it's been a while since we've had one to obsess over! The twittersphere (tumblr and instagram too) is exploding with lesbians, gay boys, and straight girls alike, totally smitten by Alex's ravishing looks and bad ass charm.
This show has everything: lesbian wives, religious zealots, race-based social groups, trans* issues, the next lesbian character icon… so here's my advice; 1. Watch the show on Foxtel (regular or binge style), 2. Let the Alex Vause effect wash over you, 3. Repeat.
Orange is the New Black begins on Foxtel's Showtime on Wednesday 9th October.
Claire Alexander