OUTinPerth takes over Bingay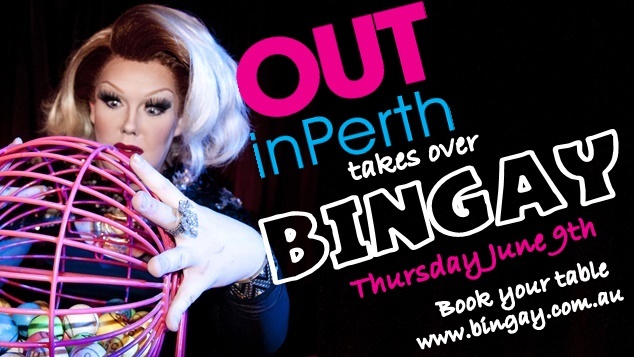 To help raise much needed funds to get OUTinPerth back up to full strength, we're taking over Binbgay next week.
Book a table at the weekly Drag Queen hosted Bingo event and help support LGBTIQ+ media in Western Australia.
Veronica Jean Jones is going to be pulling out the balls and hosting the party, and there's bound to be lots of unusual shenanigans.
Our friends at Crust – Mt Lawley will be supplying the tastiest pizza for everyone to munch on, and we'll be adding some extra sparkle to the proceedings.
Your gold coin donation will go to supporting OUTinPerth, and we'll be raffling off lots of items from the old OUTinPerth office. We're taking all the unclaimed prizes, odd giveaways, strange things, and that six foot teddy bear who hangs out around OUTinPerth, and we're putting it all up for grabs.
Last month it looked like Perth had lost it's LGBTIQ media outlet when the company that owned the magazine closed down. The editorial team Graeme Watson and Leigh Hill have resurrected the magazine but need the community's help to get back to full strength.
Proceeds from this event will help the team buy new cameras so they can document local events and community groups.