OUTinPerth two years on: We're still here!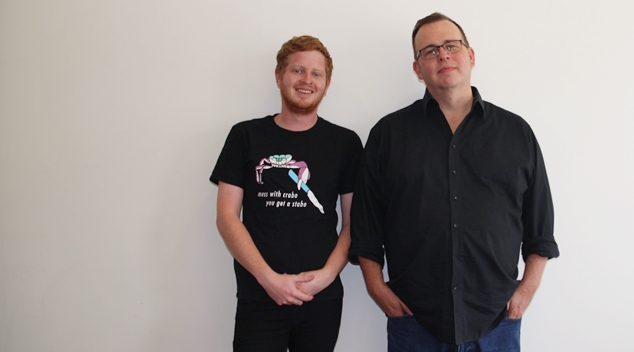 Two years ago this week it looked like OUTinPerth would have to close its doors.
The company that owned the magazine suddenly went out of business and within half an hour we went from writing stories about marriage equality and transgender rights, plus local arts and culture coverage, to packing up our belongings and wondering how we would each pay the rent.
It's a Wednesday afternoon we'll never forget.
On Thursday, something happened which posed an interesting question. Would you do your job if you didn't get paid for it?
Liberal MP Peter Abetz gave a speech in state parliament on Thursday. During a special session to ratify the appointment of Pat Dodson to the federal parliament, the conservative MP stood and argued that support of marriage equality was not in line with traditional indigenous beliefs.
Many people were outraged by the speech, some politicians walked out, others declared it "inappropriate" to be delivered during the ratification process. We couldn't share this story with you. We were unemployed journalists, we had no platform to share this news. It was frustrating.
The desire we have to share the news, conversations and debates with you is powerful, it's not our job because we get paid, it's our job because it's what we're here to do.
On Friday morning I called Leigh Andrew Hill and suggested a bold plan, we'd put in an offer to buy the magazine from the liquidator, then launch a crowdsource funding campaign to resurrect the magazine.
Before we could reach out to the local community for support, our first challenge was to secure the ownership of the magazine's intellectual property from the liquidator. We had to find a lot of cash in just twenty four hours. Generously, family and friends lent us the seed investment money we needed.
We had until the close of business on Monday to formally submit an offer for the magazine. We put in our bid, and waited. Monday night was a sleepless night, too worried to watch TV or read a book, a night of fidgeting and restlessness.
On Tuesday morning we got the call confirming we now owned OUTinPerth. It had been a whirlwind journey over seven days. Our immediate response was to ask ourselves "What have we done?"
We launched our GoFundMe campaign and immediately generous and supportive people came to help us. We raised enough money to put out the next edition of the magazine, only missing one scheduled issue.
We had to start from scratch, we were able to buy the magazine but none of the equipment needed to create it. No computers, camera or software.
Over the last two years we've embraced new technologies that allow us to be more mobile and collaborative.
We're often the journalists in the media scrum with only an iPhone to capture the moment, but it doesn't stop us from delivering photos and video and putting questions to politicians.
We have established our office in Northbridge, the creatively named 'The OUTpost' has become a meeting space for local community groups and allowed lots of people to become involved in the editorial direction and content creation of the magazine.
Over the last two years we're proud of some of the big stories we've delivered. Stories from OUTinPerth have been picked up by national and international mainstream media. Questions have been asked if federal parliament and we've documented one of the most significant changes to Australian society in a generation – the achievement of marriage equality.
We celebrated OUTinPerth's 15th birthday in 2017, and in March we published the 200th edition of the magazine. Most importantly, our audience has grown dramatically, in 2017 our online audience grew by 75%, while our print magazine has the largest single city circulation of an LGBTI title in Australia.
Now when we ask "What have we done?" There are many achievements we can be proud of.
We still have lots of sleepless nights though. Our GoFundMe campaign only raised just under half of the money needed to ensure the magazine's long term viability.
Most months we're still counting every dollar to make sure we have enough to send the next issue of the magazine to the printers and pay all the bills.
Leigh and I both have a moderate salary for our work, but it's less than you'd get for working in a shop, and there are few days off in independent journalism.
We're currently working on the resurrection of Perth's other LGBTI title – QPages. We'll have the 2019 edition ready for release during the Pride Festival. Alongside that we're also developing some other projects that will help support OUTinPerth's future.
Today we're closing our GoFundMe campaign. We're incredibly thankful to every single one of the 177 people who helped us out. You are all amazing!
As we move forward you can still contribute to helping our community have an independent voice, our Patreon account is a pathway for supporters to make a monthly contribution to the magazine's publication.
Like the aging showgirl in Follies defiantly shouts;
"I've run the gamut.
A to Z.
Three cheers and dammit,
C'est la vie.
I got through all of last year
And I'm here.
Lord knows, at least I was there,
And I'm here!
Look who's here!
I'm still here!"