Review | Patience brings some Gilbert & Sullivan fun to UWA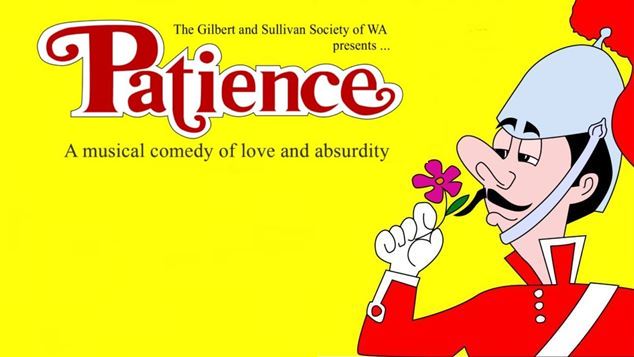 Patience | UWA Dolphin Theatre | til Sept 15 | ★ ★ ★ ½ 
I'm not even going to pretend I had a clear idea of what I was about to see. Yeah, I'd seen The Mikado and possibly The Pirates of Penzance (I do have a vague memory of Judy Garland – No wait different musical! Moving right along) so it was a no-brainer to bring along my bestie who'd taken me to see my first ever Gilbert and Sullivan show an unmentionable number of years ago. With her pregnant belly in tow we returned to our old stomping ground at Dolphin theatre to see Patience and sat down to the announcer reminding us to turn our mobiles back on after the show (cheeky!)
As the orchestra frolicked with nifty notes, I was instantly transported to a happy place of my childhood spent watching old musicals with merry tunes that instantly lift your spirits. The writing is brilliant and honestly, you'd be hard pressed to screw it up. As a "shower" opera singer myself (the acoustics never fail) I devoured every beautiful note the ladies sang with nightingale voices that soared.
G&S Operettas (look at me getting all familiar with Gilbert and Sullivan) are known for remaining current regardless of when they're performed, a mean feat considered this show first opened in 1881. Patience satirises the aesthetic movement of the time and mirrors modern problems of empty self-indulgence through our current obsession with souped-up selfies, simultaneous social media platforms and celebrities famous for doing nothing. 
The ironic title of Patience is on point as our attention span… you know what, never mind, let's talk about how the conductor's black coat with sparkly design stole the show or how captivated I was by the patience (see what I did there) of the percussionist on the triangle (yep that musical instrument we all wanted to ding in primary school).
I found myself observing lots of little details like the darling chorus girl with the red wig who tried to get someone's sleeve out of her face in subtle comic genius and whose hand scarf writhed with every one of her heart aching turmoils (folks there are no small parts! Lady you were noticed and not just by me). More often than not the funniest moments were the silent ones, from Bunthorne's expressive face whilst writing poetry with a feather that threatened to tickle his nose, to the Solicitor that came and went without a word but somehow found himself in the middle of an opera battle.
So it was premiere night and there were a couple of bumps, but the second act really saw the cast shake off any stiffness and swing into the ridiculousness of it all setting the pace with a fabulous number from Lady Jane and, one of my now personal favourites, "It's clear that medieval art" from the boys sporting some rather fancy pansy makeovers into aesthetes (yes, that is a word and you'll maybe find out what it means if you come along).
I was outnumbered with the audience being mostly over a certain age and they LOVED it as I can safely attest to from their joyously raucous laughter and you know, I think I rather enjoyed it too because by the time I got back to my car I'm sure the whole campus had heard my bellowing as I attempted the tune ""Twenty love-sick maidens we". Grab your grandma or a pregnant buddy bestie and be ready for some light-hearted fun.
Patience is playing at UWA's Dolphin Theatre until September 15th. Tickets and more information available from gilbertandsullivanwa.org.au
Evelyne Tymms