Patrick Coward: Fortune Favours The Brave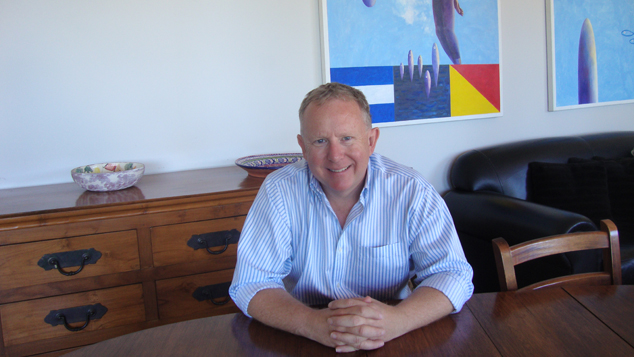 This month two of the companies owned by local businessman Patrick Coward take their biggest step yet. Both his Margaret River Chocolate Company and Margaret River Providore are set to open in the city centre. Moving into an enormous, grand building on Murray Street will bring one of WA's most iconic brands into the city centre's crowded retail environment.
Coward arrived in Australia from England as a four year old when his family emigrated from the north of England in the late 1960s. The family settled in Kewdale and it was there that a five year old Coward met his lifelong friend and business partner Martin Black – who was also a child of British immigrants.
'I grew up in that wonderful time when parents didn't care where you were and what you did… so in 1969 these two young boys looked at each other across the street and became best friends, and we've been best friends ever since. I still speak to him every day… we've been best friends for forty years'

Coward demonstrates that the friends' story is illustrated on the label of their wine range Coward and Black. The bottle's label features a drawing of two businessmen travelling across the sea in an umbrella, the shape of both England and Western Australia subtly included in the clouds in the background. Coward highlights the texture of the parchment, pointing out the importance of how the bottle feels when you pick it up.
'I wanted a nice back label, because if you go to a dinner party and the wine gets put down on the table, someone's always looking at it from the other side.'
This  attention to the small details is apparent as Coward talks about the wine and developing a product that people engage with. His comments flip from the creative side of product development to the mathematical and scientific side of business.
Coward's business career began in his late twenties. Bypassing university, he started his career in a small screen printing company –  he credits his employer there for giving him his first lessons in running a business,
'He was very firm and very hard, and he taught me how a small business works, and it's the best lesson I could learn.'
Coward says one of the most important lessons he learned was to always say yes, because you can always apologise and say no later.

Coward decided to open his own business; he borrowed money and bought a one man engraving business in Welshpool. He slowly built up the business branching out into printing and relying on the help of a lot of friends. Coward credits his success with a few lucky breaks.
'One day I got a call and this guy asked, "Do you make woggles?" I actually didn't know what a woggle was,' Coward confesses, but he agreed to meet the potential client. He soon learned that woggles are the things that boy scouts use to secure their scarves, and the order was to make fifteen thousand commemorative woggles for the Australasian Boy Scout jamboree. Coward explains that he walked around to a neighbouring business and discovered that they could complete one of the steps in making a woggle, and with his own machines and a lot of help from friends he could take on the job.
With the money made from this deal Coward was able to buy some extra machinery and invest further in the business.  Another important stepping stone in the businesses success was a contract to make name badges for the Western Australian police force. Coward credits these two lucky breaks in his first year for giving him a solid start.
After a few years in business Coward explored his desire to buy some property in Margaret River. After looking around the local market he realised that it was cheaper to buy a large piece of land rather than an established house on a small piece of land. He found a large piece of land, but it was more than he could afford on his own. Looking for friends who might want to invest with him, his first call was to childhood friend Martin Black.  Together with his sister Jane and another friend the foursome bought 107 acres of land in Margaret River and built a house to use on weekends. It was on one of their weekend sojourns that the idea for the Margaret River Chocolate Company was born.
'It was January 1998, I'll never forget, we'd been out at wine tastings and I remember feeling how much I loved it down there. There were all these new ideas around; there was the Berry Farm, Simmo's Ice-cream and the Margaret River Dairy Company. I thought, "Why do I have to be stuck making badges and brass plaques, why can't I come up with a brilliant idea?" I remember feeling really frustrated and annoyed that other people were coming up with these great ideas.'
A brainstorming session with friends came up with the idea of a chocolate company. The idea stuck with Coward and he kept thinking further about it.
'At that stage chocolate had always been about boutiques – when everyone thinks of a chocolatier it's a small place like a jewelry store in Belgium or Switzerland, and at the other end of the scale there is  Cadbury with massive big factories… I got this idea of brown paper and pine crates, as soon as I could see that, with big slabs of chocolate cut up with a big knife and wrapped in brown paper, in the style of an old fashioned grocer with an apron on… as soon as I had that image in my head, I knew we could make it work.'
When the Margaret River Chocolate factory opened on a long weekend in May on a corner of the farm they predicted they might get two hundred people a day to visit, but the end of their third day 7,500 people had visited and there was no chocolate left. A period of rapid growth soon followed and the pair bought a factory in the city to keep up with demand before building their second property in the Swan Valley. Today 480,000 people visit both sites, making the outlets one of the top tour attractions in their respective regions.
At the beginning the business partners were concerned that the chocolate business might be seasonal, so they branched out into making jams and preserves, planted a vineyard to make wine and soon opened their second business, Margaret River Providore. Three years after the business opened it was named by Australian Traveller Magazine as one of Australia's top 100 gourmet experiences.
While Coward and Black's ventures have been successful, Coward admits that they have made mistakes along the way. One thing Coward is adamant about is that in business, you have to  know when something isn't working,
'Everything is mathematics, my challenge has always been to put in all this great stuff and prove that it was mathematically viable. I always says it's like a Rubik's Cube, you have to change it many times and try things, many different permutations to find the right combination… but when you make a mistake the first thing you have to do acknowledge that it was a mistake.
'For us it's about margins, I speak to so many business people and I'm still absolutely blown away by their complete misunderstanding about business. Business is all about margin; it's a simple as that. Most people think business is about sales so they're out to grow their sales… so they sell a million dollars at five percent and don't realise that if they sold half a million at ten percent they'd have the same  outcome with half as much effort and half as much stress.'
Keeping customers, staff and owners equally happy is another equation that Coward cites as a secret to successful business.
Coward's clearly excited about the opening of the new store in the city. The company has bought the grand building that was previously home to fashion label Pierucci and was built in 1903. The Margaret River Chocolate Factory's arrival is a bold statement.
'You never know if something new is going to work, I don't know if Murray Street is going to work…we've got two huge spaces so we're opening the Margaret River Chocolate Company in one shop and the Margaret River Providore in the other and you'll be able to walk between the two. We've been looking for the right building for five years; it had to be the right space.
We've always done our own fit out and our own interiors but what we've done this time we decided to get someone else to do it… we looked at what we liked, we liked Little Creatures, and Balthazar and Must and E cucina and Il Lido and those five places were all designed by the same guy, Paul Burnham…so he's doing the fit out.'
While Coward is openly gay he's never found his sexuality has hampered his business ambitions,
'Your sexuality has nothing to do with anything in the business world, in my experience in Western Australia it's never been an issue. It's unlawful to discriminate on the basis of sexuality and I've never come across it.' Laughing though he admits, 'I do think I have some attributes in business that correspond with my sexuality though, such as my tempestuous temperament.'
Written By Graeme Watson
---
Support OUTinPerth
Thanks for reading OUTinPerth. We can only create LGBTIQA+ focused media with your help.
If you can help support our work, please consider assisting us through a one-off contribution to our GoFundMe campaign, or a regular contribution through our Patreon appeal.