Paul Benson shares his experience of same-sex marriage overseas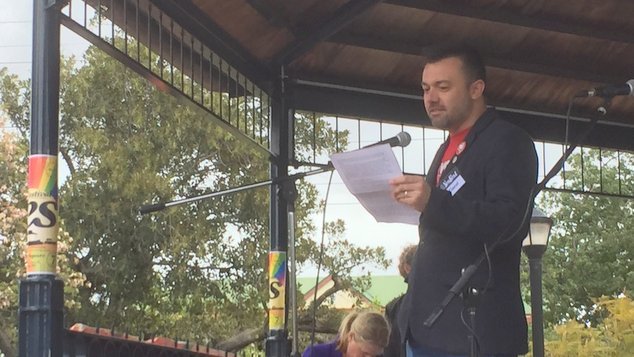 Paul Benson from The Equality Campaign shared his personal story about marriage equality when he spoke in front of the huge crows who gathered for the Yes! Festival in Perth last weekend.
Benson shared that he had fallen in love with his partner Shane, and shortly afterwards the couple moved overseas. They were married overseas and even though they lived in a tiny village, nobody cared that there was a gay married couple.
"We fell in love in Perth, went overseas and lived in a tiny village in France. And when I say tiny I mean tiny. Ninety four people in the whole place. We were just another married couple in a community mostly made of married couples and no one batted an eyelid.

"The fact we were gay never even came up. The fact my husband is a vegetarian on the other hand, was scandalous."
Returning to Australia, the couple had to encounter the experience of no longer being married in the yes of the Australian government.
"After a couple of years we came back to Australia, and although we didn't chuck our wedding rings in the security bin at Customs along with the old apple Shane forgot was in his backpack, our marriage isn't recognised here."
Benson said the LGBTI community's journey towards full equality had started many decades ago, long before the Australian Bureau of Statistics started posting out survey forms.
"Our community was already campaigning on that dark night in Darlinghurst nearly 40 years ago when the first ever Mardi Gras was met with batons and brutality.
"It was hitting its stride when the last state decriminalised homosexuality 20 years ago. It was in full swing when WA same sex couples got de facto status 15 years ago. And that big campaign for equal love and equal dignity goes on today.
"At every stage of it, we've faced the same opposition. The same lies told, over and over. The same so-called Christians taking to the airwaves to rail not against poverty, or injustice, or greed, or hate, or war, but against the outrageous notion of people they don't approve of loving each other.
Benson said it was regrettable that the government had decided to hold a national debate on LGBTI people's rights because it was always going to have an effect on members of the LGBTI community.
"And always, always, as we inch closer to equality, the same hurt is inflicted on the innocent. The child of two dads whose teacher unthinkingly says they don't have a real family. The gay teen in high school who find the word "faggot" daubed on his locker. The trans girl facing another day of abuse at the hands of strangers she never harmed. The way so many of us are made to feel small, and alone, and ashamed.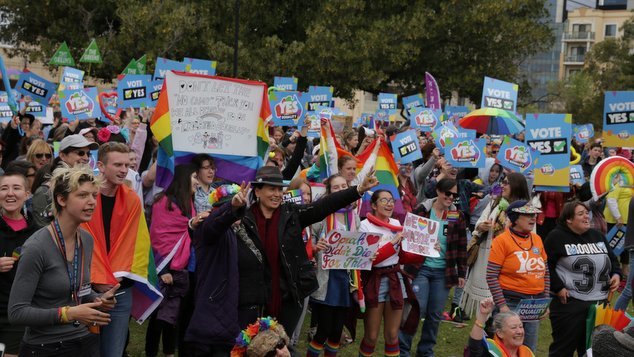 Benson said one of the great achievements of the marriage equality campaign was that it had brought together people from across Australian society in support of a common cause.
"Look around. See who stands with us today." Benson asked the crowd.  "In the face of adversity, we have allies everywhere. Small acts of courage are happening all over the country as people come and stand with us.
"Businesses big and small, who know not only the value of the so-called pink dollar, but the value of each and every human being who walks through their doors. They stand with us.
"Churches that place love and compassion before dogma and cant have resisted the calls to stay silent, and they stand with us.
"Even the NRL and the AFL, those supposed bastions of traditional Australian masculinity, stand with us.
Benson told the crowd he was surprised at the wide spread support for marriage equality, noting that it crossed political and religious lines.
"But there are also people standing with us who I never dreamed I would be on the same side as. Liberals and Nationals, Labor and Greens, Left and Right, Atheists, Christians and Jews and Muslims. People who know us and people who don't. People who have nothing to gain one way or the other."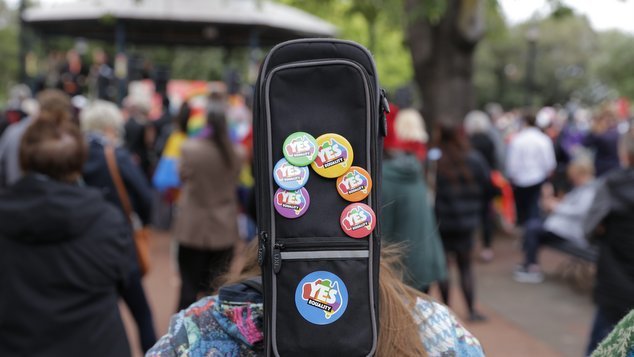 The marriage equality advocate said a common sense of decency was what bound sop many Australians from different walks of life together.
"They aren't doing it because the secret gay army put glitter in the drinking water and made everyone gender fluid and bi-curious. They're doing it because they see the who, and not the what.
"They see gay kids in school as kids in school, trans men and women as men and women, and the children of two dads or two mums as children with a loving family that deserve equal protection and equal dignity. That innate decency at their core compels them to stand with us.
OIP Staff, top image: Graeme Watson, other images: Bryan Wilson
---
Support OUTinPerth
Thanks for reading OUTinPerth. We can only create LGBTIQA+ focused media with your help.
If you can help support our work, please consider assisting us through a one-off contribution to our GoFundMe campaign, or a regular contribution through our Patreon appeal.