Pauline Hanson voices her opposition to recognising intersex people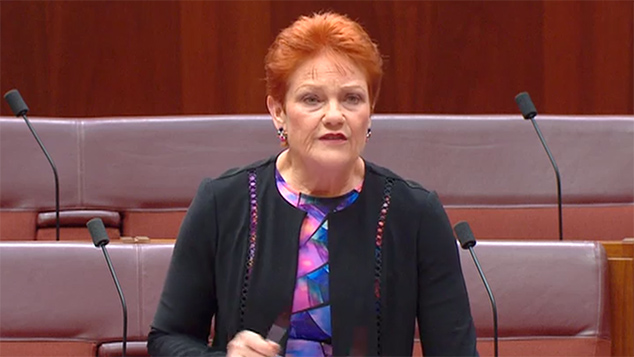 One Nation leader Pauline Hanson has declared she has no time to learn about the challenges of people who are born intersex.
In parliament today The Greens and Labor Senator Louise Pratt put forward a motion calling on the senate to recognise Intersex Day of Solidarity. The motion was read out by Senator Rachel Siewert on behalf of Senator Janet Rice.
It called on parliament to recognise that November 8th was a day nominated for raising awareness around the issues faced by people who are intersex, and asked politicians to learn more about the challenges they face, and to read the Darlington Statement which outlines how to best protect the human rights of intersex people.
Senator Hanson told the parliament that she had no time to learn about the issues of people who are intersex and she believed politicians should focus on other issues.
"I've got more time to consider my duties as a parliamentarian for the people of Australia dealing with water, dairy farmers, PTSD for Defence personnel and family law, instead of dealing with this.
"I cannot believe it: yesterday it was transsexual; today it's intersex—or whatever it is. How many more of the 39 categories do we have to consider in this parliament? I just think it is ridiculous. There are more important things for us, as parliamentarians, to deal with that concern the people of Australia, rather than dealing with this or learning more about it." Senator Hanson said.
Liberal Senator Jonathon Duniam said the federal government had done a lot of work to improve the experiences of intersex people, and while they were supportive of learning more about the issues people faced, they rejected the motion because they viewed it as tokenism.
The motion was defeated with an equal number of MPs voting for and against it, the government, independent senator Cory Bernardi, and One Nation MPs banded together to vote no.
Later in the evening Senator Hanson appeared on the Sky News program The Bolt Report and said she didn't know what the motion was about but she was opposed to learning about people who are "intersexuals".
"On the floor of parliament today they wanted to talk about international sex or these sex – I don't even know what it is. They put up yesterday about transgender and then they want us to learn about it, and today they put up another thing on the floor of parliament."
On Wednesday a motion was successfully passed recognising Transgender Awareness Week and politicians made a commitment to learn more about the experiences of transgender and gender diverse people, and involved them in decision that affect their lives. The motion was supported by everyone except One Nation and Senator Cory Bernardi.
The trio of senators opposition to supporting people who are transgender was criticised by Amnesty International Australia.
"Senators Hanson, Roberts and Bernardi's transphobic actions in the Senate must be called out," said Amnesty International Australia campaigner Joel Clark.
"The Senate was faced with a simple question: should transgender and gender diverse people be provided with essential health, social, cultural and community services? This transphobic trio of Senators said no. This is absolutely disgraceful.
"They didn't speak on the motion. There's no press release to explain why they voted this way. Just a no vote. They must at least explain why they believe that transgender and gender diverse people don't deserve these services. Health care is a basic human right, and it absolutely shameful that we have Senators voting against access to this right for an already vulnerable community".
Senator Hanson said she was opposed to the motion supporting transgender people yesterday, and opposed to the motion about intersex people today.
"They brought up the same rubbish again on the floor of parliament and I said 'hold on a minute, I'm not going to spend my time learning about less than one percent, less than 0.01% of the population – has these issues, and they keep raising it everyday.'"
Senator Hanson said she was focussed on dairy farmers and soldiers with PTSD and would not be "putting up with this rubbish".
The One Nation leader said members of parliament needed to stand up and oppose discussion about transgender and intersex people.
'They'll keep pushing this rubbish on to us, and nobody wants to say anything because 'we can;t upset anyone' and 'we've got to be politically correct'. As long as I'm in this parliament its not going to happen, I'm sick and tired of this garbage, I'm sick and tired of this rubbish." Senator Hanson said.
If Senator Hanson took the time to learn more about people who are intersex she learn that intersex people are individuals born with any of several variations in sex characteristics including chromosomes, gonads, sex hormones, or genitals that, according to the UN Office of the High Commissioner for Human Rights, "do not fit the typical definitions for male or female bodies"
Intersex people face a great deal of stigmatisation. Increasing medical professionals are realising that undertaking surgery on intersex people before they are of an age to be involved in the decision making process is not in their best interests.
Senator Hanson would also find out that people are referred to as being intersex, or having an intersex condition, but are not called "intersexuals".
While the prevalence of intersex conditions is debated by doctors, one study in 2000 suggested that it could affect as much as 1.7% of the population, not the 0.01% figure quoted by Senator Hanson.
The Darlington Statement which was created in 2017 outlines how the human rights of people who are intersex can be respected.
Graeme Watson
---