Paulini on Pride, Ping Pong and Pretty Boys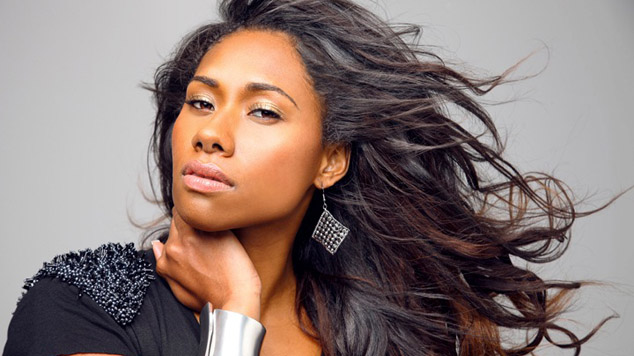 Often, 'flash in the pan' celebrities who appear on reality television shows can struggle for relevance once they make the step from prime time to the real world  of showbiz but since first appearing on 'Australian Idol' Paulini Curuenavuli has kept busy with a steady flow of work and an increasing international profile.
She spoke with OUTinPerth's Joe Cassidy about performing at New York City Pride and how the sport of ping-pong lead to meeting Susan Sarandon.
Paulini has just returned from a "hard, but worth it" work out session that involved a lot of sprinting, her way of relaxing.  Taking some down-time is certainly a good idea for the 25 year old that has had a busy year and having just returned from the mother of all queer parties, New York City Pride.
"As soon as I got there it was just buzzing, when you stepped out of your apartment it was just a great vibe, people on the streets are buzzing and obviously the music there was unbelievable," she said.
Performing during the event 'Shark' Paulini sounded genuinely excited and impressed with her fan base in the US.
"It was so funny, I was surprised while I was singing 'Fireman' I could see a few people singing along," she said.
"I always get a buzz when you look out and people know the songs and you kind of go 'ok, they do listen to the music… they are there to see you'."
The Fijian-born singer harbours aspirations to break into the lucrative US market but not only for the bigger market and audience.
"I've gotta say, some of the boys in New York are the most beautiful boys, that's the only way I can explain it, they were gorgeous! But obviously they weren't looking at me!" she laughs.
Although the dream is to get a number one in the US charts or hit the top 20, Paulini said she would be happy just to work in the Big Apple's clubs.
"When I went over there I could actually see myself performing every night and getting great money for it, it was unreal," she said "there is always work over there and people looking for new talent."
Success in the coveted US market could come sooner that she thinks, having recently toured internationally in London, Berlin, Paris and Germany, with different locations providing inspiration for the self-penned songs on her upcoming new album.
"Through the last five years I've been writing and all of those songs I connected to the most are across the album, it's basically my life and my world," said Paulini, "It's really the only place where I can be honest, in my words, and I've totally just been enjoying that whole process."
The new album  may be a more artistically mature collection that her 2004 debut, 'One Determined Heart' which went platinum and hit number one on the ARIA Charts. Since its release Paulini has collaborated with Ronan Keating on 2010's 'Believe Again' and with Guy Sebastian on 'Receive the Power' in 2008, the exposure from which helped raise her international profile.
In 2011 she performed her song 'Show Me Your Colours' (the Ping Pong Mix) in China at the Volkswagen Table Tennis Cup Championships, and ended up having dinner with ping pong aficionado Susan Sarandon.
After performing Paulini and her management team were invited out for dinner and sitting comfortably at the table when they arrived was the famed Hollywood actress.
"I was in shock. I mean, hello? You just never think that an amazing woman and an international actress would be sitting at the table where you're about to have dinner, it was insane," Paulini shares.
"We were all freaking out and she was like, it's all good, we were just hanging out and having a few glasses of red wine."
Sarandon was an ambassador for the Table Tennis game internationally and owns a handful of clubs dedicated to the sport in New York. Sarandon, obviously impressed by Paulini's presence and familiar with her work, invited her to perform at the opening of one of her clubs in New York.
"So I went over to New York and performed at these clubs that she owns, Q-Tip was there, it was an amazing night."
Paulini approaches all of her shows with equal enthusiasm, when I mention if she's excited about performing here in Perth her response was similar to when she speaks about New York.
"I haven't been to Perth in ages! C'mon! I'm like, why aren't I getting any invites to Perth? Don't they like me? I really want to come over, I just haven't for such a long time, so I'm really, really looking forward to it."
Paulini performs on Friday the 18 October at The Court Hotel's 911 Party to raise money for Telethon.
 Joe Cassidy