Perth Marches After Decade Anniversary of Marriage Equality Ban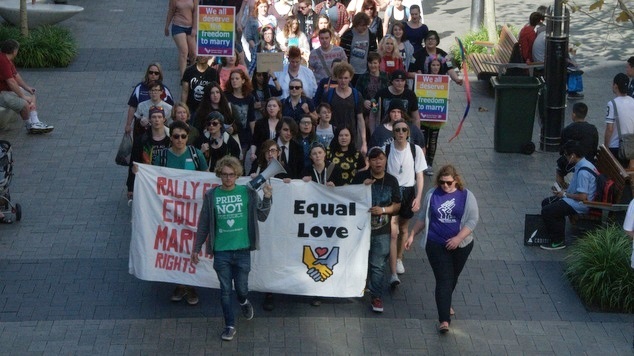 On August 16th, marriage equality supporters gathered in the Murray Street Mall three days after the amendment to the Marriage Act banning same sex marriage in Australia had its tenth anniversary.
A number of activists spoke at the rally including Equal Love's Sam Cavallaro, who introduced a number of activists including Farida Iqbal and UWA Queer Officer Natalia Verne.
Satirical character Baloney Abbott gave a speech from the perspective of a conservative politician who regards ten years since the enactment of an official marriage ban as an anniversary to be celebrated.
Greens MLC for the Southern Metro Region Lynn MacLaren spoke what ten years of same sex marriage being banned means for our government and the campaign for equal rights.
"I don't believe any of us felt this struggle would be so long.  It's a sad indictment on our political leaders. First Julia Gillard and now Tony Abbott are holding us back. But we have achieved much – now more than 70% of Australians support marriage equality.
"The Greens have a longstanding commitment to end marriage discrimination. I urge you to make the most of the opportunity for change at a federal level this year by meeting face-to-face with WA Liberal MPs in the lower house. There are twelve of them, the most senior is Julie Bishop. My office can help you contact these MPs. If this latest push for federal reform falters, rest assured that my State Bill can deliver state-based same-sex marriage. We will ramp up pressure on state MPs."
Clare Francis spoke about how the federal budget will affect queer youth, as well as why the fight for marriage equality remains important ten years on:
"The ban on marriage is still a major source of anger for our community, even young queer people like me who have absolutely no intention of getting married, we want to see the end of Howard's discriminatory marriage ban because we demand to be treated equally under the law. We demand civil rights" she said.
"We have been fighting for ten years against this ban, and we have won more and more support. There are currently rumours about a consensus vote in the Liberal party for marriage equality, but our civil rights should not be be determined on the conscience of the Liberals. We have only gotten this far by fighting on the streets, waiting will win us absolutely nothing. We have to keep fighting if we want rights, if we want to overturn this discriminatory marriage ban and to continue to fight against institutionalized homophobia and transphobia."
James Rendell of Friends of Palestine Western Australia spoke on the importance of fighting for LGBTIQ rights globally, in particular in regards to the conflict in Gaza:
"Unless we stand together as a queer community and recognise the rights of everyone then we'll be taken off like snipers, they'll just shoot us off one by one."
"All of us need to work together because it's like that old saying 'well if I don't stand up for my rights, if I don't stand up for your rights, then what happens when they come for you? Because there'll be no one to stand up for. So as we go about our day to day, just remember that Palestine is not all that's being told in our media which is being ignored, it is a queer issue and we really should be thinking about the queer people in Palestine and all around the world."
Curtin Student Guild Education Vice President Miranda Wood made a speech paying tribute to the late activist and Equal Love WA member Amber Maxwell, who passed away last year.
"Many of us would remember her stridently chairing rallies, giving speeches and chanting out loud, and so terribly out of time. Amber regarded her oppression as a trans woman not as an injury but as a weapon. The point of saying this is not to drown in tears at her passing that we have lost such a beloved friend and such as asset to her community but to take heart from it and to follow her example.
"On the 24th of August last year Amber left us. Our friend who, like so many of us faced torment so often, always countered it with a fight. But along the way she found friends, and she inspired other young people and other LGBTI people to hang on and tighten their grip and to take the struggle for marriage equality into their own hands. "
OIP Staff
See the photo gallery for the rally here.