Perth Woman Verbally Abused on Public Transport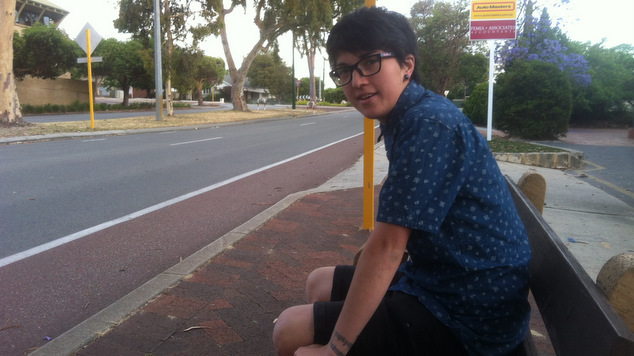 A Perth lesbian has told of her surprise at being abused by a stranger on a Perth bus last week.
Annick Phan, 24, was catching public transport in central Perth when she encountered a barrage of abuse from another passenger.
Phan was catching the Yellow CAT bus in Perth's central business district from Harbour Town into the City Centre on Friday 15 November when another passenger started verbally abusing her about her sexuality.
Phan explained to OUTinPerth that her skateboard had fallen over and bumped another passenger, an older gentleman, who she immediately apologised to. While the gentleman was not upset about the mishap another passenger began to comment out loud on Phan's sexuality.
"I was just sitting there quietly," said Phan, "But I could hear her saying 'I hate lesbians, they're disgusting, I hate her, she's an ugly lesbian.' She just kept saying it over and over again and I ignored her, but eventually it got to the point where I couldn't handle it, everyone on the bus could hear her, it wasn't soft anymore."
Phan says she turned to the woman in her 30's and asked her what her problem was? Phan said the woman responded that she felt Phan had been rude by not controlling her skateboard.
"I told her that I had apologised to the man, and it had nothing to do with my sexuality," Phan recounted, "she just kept saying under her breath 'lesbian, I'm going to kick your head in.' Phan recalls that the woman kept repetitively calling her names like "dyke" and "dirty lesbian".
"I got to the point where I just said, I yelled, 'Can you stop having a go at my sexuality, it has nothing to do with you'" Phan said.
To her surprise Pham was given a warning by the bus driver for being noisy. Phan said she's not sure if the bus driver was able to hear what was going on when he told her to "settle down", but she was surprised and disappointed that other people on the crowded bus did not react.
"Whenever I looked to someone for support, they just turned away every single time." Phan said.
With no interjections the woman allegedly continued to taunt Phan telling her that she was going to get off at the same stop as her and bash her with her skateboard.
With the woman's comments continuing unabated Phan shares that she eventually she began to "tear up" and moved away from the woman and stood in the centre of the bus. To her surprise a group of passengers at the front of the bus laughed at her getting upset.
Phan said if she was to encounter the situation again she would be more vocal in getting support from other passengers on the bus and ensuring that driver was aware of why the disturbance was occurring.
Claire Krol, Media Manager for Transperth highlighted that the personal safety and security of customers and staff is very important to Transperth.
"We are concerned to hear about this incident," Krol told OUTinPerth, "We do encourage passengers to report incidents like this to the bus driver, to the Transperth Comment Line (13 62 13) or to the police if that is appropriate. The vast majority of our buses carry state of the art CCTV cameras that record most interactions.
"Every situation is different and we rely on passengers to use their common sense – in the same way they would if they were in any other public place – in these sorts of interactions. If customers feel uncomfortable we urge them to firstly communicate with the bus driver. If an incident needs to be escalated, bus drivers have access to a duress alarm they can press to alert our on-road security teams to response directly to the bus."
Graeme Watson
Tags: abuse, Annick Phan, bullying, Lesbian, Perth, Transperth