Perth's Pride Parade recreated in Lego!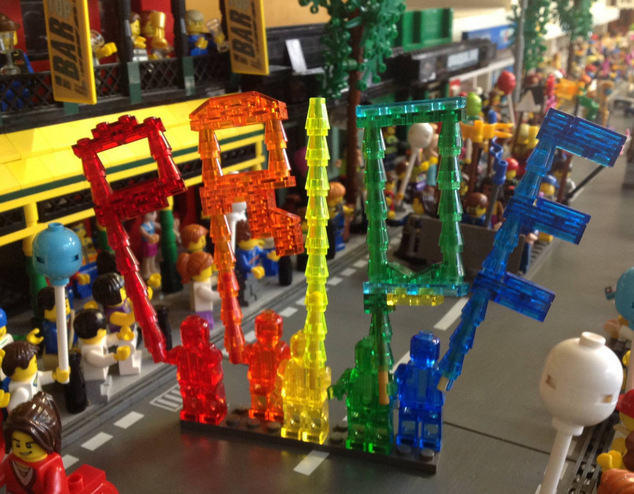 Lego enthusiasts will converge on the gym at Belmont college next week for Bricktober – the annual gathering of those who painstakingly build massive Lego creations.
Among the displays at this year's event will be a brilliant recreation of the Perth Pride parade.
The streets of Northbridge, the Dykes on Bikes, the Bears, the calls for marriage equality and the colour and excitement of the parade have all been captured.
The amazing Lego work was created by local community member Clinton John. CJ is well known from his time as employee at The Court and much loved club DC's and is a regular attendee at The Bears events.
Clinton told OUTinPerth that he first made a model version of the parade for his birthday but he's now spent six months working on their piece for his professional Lego building debut. He's not sure how many pieces of Lego were used in the creation of the massive work, but it takes up three trestle tables and is 18 feet long.
To accurately recreate the streets of Northbridge, Clinton walked the parade route and took heaps of photos of each of the buildings, and he's not just built the outside of the key landmarks, they have interiors too.
Recreating the turrets at the top of The Brass Monkey Hotel in Lego was the hardest part of the Lego construction, which is filled with amazing detail right down to the sings on each Northbridge business.
Tickets to Bricktober can be bought online. The event has pre-sale tickets so it never gets too crowded. Head to the website to book your ticket.
While we can only show you one photo in this sneak peak, we've seen a few more and can vouch for just how amazing this display is.
Like all Lego enthusiasts Clinton can't wait to get on to his next construction, but he's going to have to wait a little while before he can smash this amazing display and move on to his next project.
Get tickets to Bricktober from their website.
OIP Staff