Perth's Roller Derby ready to rumble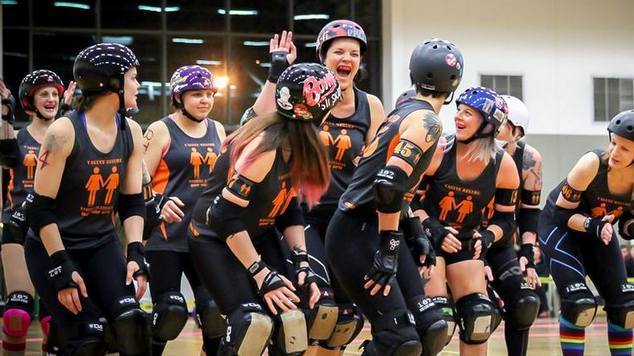 Perth's queer Roller Derby league the Vagine Regime is ready to rumble tonight as part of the 2015 PrideFEST.
Paige Womble from the Vagine Regime explains how Roller derby works.
"Roller derby is a fast paced, hard hitting game. We wear quad roller skates and skate clockwise on a track.
"Each team has 4 blockers ( 8 blockers all up, forming the pack) and one jammer on the track. The jammers are the point scorers and start behind the pack.
"They need to get through the pack, while being blocked/hit by the opposition blockers.
"The first jammer out becomes lead jammer and then has the ability to call off the jam
Points are scored by passing opposing blocker hips.

The bout at Maylands "The Rise' this evening features half time entertainment from the wonderful burlesque entertainer, Ginger La Minge. There's a licensed bar and it's a family friendly event.  
The skaters are aising funds to they can head off to the Battle on the Bent Track in New Zealand.
Battle on the Bent Track is a Vagine Regime Roller Derby tournament for queers skaters. VR (Vagine regime) is a roller derby group for skaters who identify as being queer.
Most states in Australia have a Vagine Regime or VR league. It's has been hosted in Australia for the last 4 years, now it is New Zealand's  turns to host. It's a chance for various VR leagues to come together and play each other and form new friendships.
The Vagine Regime's PrideFEST Bout is on tonight at The Rise in Maylands and it get's underway at 7:30pm.