Pet Shop Boys Electric: Track by Track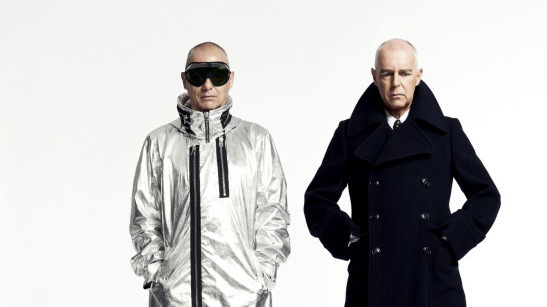 The Pet Shop Boys are back with their thirteenth studio album and it's a stellar collection of songs that recall the bands 80's roots, filled with dance tunes, camp moments and wit. It's a glorious return to form for the band who less than a year ago were putting out much more laid back sedate sounds.
Teaming up with producer Stuart Price who has worked with Madonna, No Doubt, Seal, Kylie and The Scissor Sisters this is an album that has all the best things about the Pet Shop Boys in perfect balance.  This is a full on dance album from go to whoa.
Here's our track by track take on the album.
Axis
The album's lead single is a largely instrumental dance track that recalls the duo's popular b-sides like 'In the Night' and 'Paninaro'. With a vocal call out of "I Want Your Energy" the album kicks off with a beckon to the dance floor. This is a great dance track that builds and builds. It's a brave choice for the first single.
Bolshy
The dance beats keep coming with the sing-along of "Bolshy, Bolshy, Bolshy', disco cowbells, and a four to the floor dance beat this is one camp tune. Still light on the vocals, this is the ever catchy song you'll wish wasn't stuck in your head later.
Love is a Bourgeois Construct
Intelligence dance music is something that the Pet Shop Boys have never shied away from, never afraid to drop an intellectual discussion into the middle of the dance floor. You have to wonder how many people have gone and listened to a DeBussey Symphony after the boys mentioned him in 'Left to My Own Devices'. So here's a pop tune that will have people googling 'Bourgeois' to see if their memory of the definition of the word from High School is correct. There's a clever background vocal in here that tips its hat to the Russian revolution, while the track borrows from nineteenth century English composer Henry Purcell.
Fluorescent
With the big opening beats of this tune we head somewhere much darker. It sounds underground, late at night with pulsing synthesisers and sexual moans and groans. This songs sounds like sex. It's throbbing and it's good.
Inside a Dream
Things slow down for the opening of this track, large heavy chords strike like we've walked into a cathedral, but the dance beat returns quickly. The vocal is enthralling, pulling us 'inside the dream', the tracks builds layer on layer until it's a thumping club tune with euphoric rises. Neil Tennants heavenly vocal quoting a poem from William Blake is masked behind a downpour of electronica.
The Last to Die
This track speeds along like a bullet train with full on vocals, and almost shockingly it's a cover, originally by Bruce Springsteen taken off his 2007 album 'Magic'. Here the Pet Shop Boys continue their long tradition of taking the most unexpected song into dance territory as they have previously done with songs from Elvis, U2 and Frankie Valli.
Shouting in the Evening
It's another of those songs that the band has traditionally left to be a b-side, a killer instrumental dance track with minimal vocals. It's a stomping relentless track that may be the one track you reach for the skip forward button on, it's quite hardcore. The title is taken from a quote from actor Sir Michael Gambon who was once asked to describe what he did for a living.
Thursday
Here's an unexpected collaboration, for a band that have a long history of working with Diva's like Shirley Bassey, Tina Turner, Dusty Springfield, Kylie, Liza, Elton – it's a surprise to see UK rapper/electo star Example turn up.
With its spoken word intro it's very reminiscent of the bands earliest hits like 'Love Come Quickly' and 'West End Girls'. The premise of the song is simple, it's Thursday – and Neil asks "are you go stay for the weekend?' while Chris Lowe lists off the days deadpan, "Thursday, Friday, Saturday, Sunday."
When   Example comes in to rap, quite late in the track, it takes it to another level, plus he rhymes 'Holy Cow, you've been down' – it's quintessentially English. The combination of the three male vocals on this track makes it uniquely different to their past work.
Vocal
The second single from the album is a massive euphoric dance track with memorable lyrics descriptive lyrics. This is the type of tune that made us love this band. It's their classic sound for a new generation. No self respecting dance music lover will be able to stay at the side of the dance floor when this comes on and Neil Tennant declares 'I like the people, I like the song, This is my kind of music, They play it all night long."
Grab this CD and put it on to continual repeat and dance.
Graeme Watson