Photographer harassed over controversial photo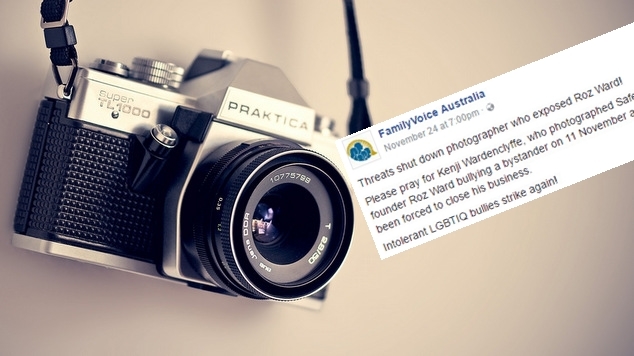 A photographer who took a picture that appeared to show Safe Schools Coalition staff member Roz Ward jostling with a Donald Trump supporter at a Melbourne rally has said that he's been forced to put his business on hiatus.
Conservative group Family Voice Australia has declared the LGBTIQ community is to blame but the photographer disagrees.
Kenji Wardenclyffe is a freelance photo journalist. Last week during a protest against US President-elect Donald Trump he captured a moment that allegedly shows Ward attempting to remove a Donald Trump cap from the head of a counter-protester.
The image, which was published in News Corp publications, shows Ward coming into contact with the Trump supporter, while holding a copy of the Marxist newspaper The Red Flag.
The photographer has said the negative feedback he received in the wake of the photos publication has forced him to put his business on indefinite hiatus.
The Australian newspaper has written a series of articles recently criticizing the anti-bullying program and particular interest has been drawn to Ward's personal politics.
The publication of the image triggered a new wave of calls for Ward to resign from her position, with many highlighting the irony of an anti-bullying campaigner appearing to harass someone.
Earlier this year Ward was forced to step down from a role on a Victorian government advisory group after she posted a controversial comment to her twitter account.
Photographer Kenji Wardenclyffe posted to his Facebook page reporting that he had received abuse, threats and harassment after the image was published.
"Unfortunately people felt hurt by this, of which I understand, but I have since received threats, abuse, harassment and been told in no simple terms I probably will not be welcome to cover left wing rallies." the photographer wrote.
Wardenclyffe shared his belief that the media should remain neutral when covering events and noted that he closely adheres to the National Association of Press Photographers Code of Ethics.
"Whether or not I agree or disagree with something would not and does not change my actions in how I cover events or how I publish my photos afterwards. I strive to be as accurate to the situation as humanly possible.
"As such I'd let people know the importance of unbiased media in regards to educating the public and expanding the public's understanding of what is actually going on in society. A well informed populous is, after all, an incredibly important part of a democracy." Wardenclyffe told OUTinPerth.
Family Voice Australia blames LGBTIQ community for negative feedback
While the photographer only described the negative feedback he received in repose from taking the photo as coming people who attend left wing rallies, Family Voice Australia has highlighted the incident and described the harassment as coming from the LGBT community.
The conservative group asked their followers to pray for Wardenclyffe, and said this was another example of the LGBTIQ community being intolerant.
"Please pray for Kenji Wardenclyffe, who photographed Safe Schools founder Roz Ward bullying a bystander on 11 November and has now been forced to close his business. Intolerant LGBTIQ bullies strike again!" the group posted to it's Facebook page.
Threats shut down photographer who exposed Roz Ward!

Please pray for Kenji Wardenclyffe, who photographed Safe Schools…

Posted by FamilyVoice Australia on Thursday, November 24, 2016
The photographer has however told OUTinPerth that as far he is aware the negative feedback he has received has not been from the LGBTIQ community.
"I have not had any threats or abuse from people of whom I am aware are members of the LGBTI community what so ever, so I would have to say that no, the description that Family Voice Australia gave in their status is an inaccurate representation of what actually occurred in response to my photo being published.
"In fact, from what I have noticed among friends of mine who are part of the LGBTI community, they have been very supporting of the fact I remained unbiased, even given the nature of the photo." Wardenclyffe told OUTinPerth.
OIP Staff
Tags: bullying, Kenji Wardencylffe, photgraphy, Roz Ward, safe schools, The Australian