Popular gay news websites 'samesame' and 'Gay News Network' disappear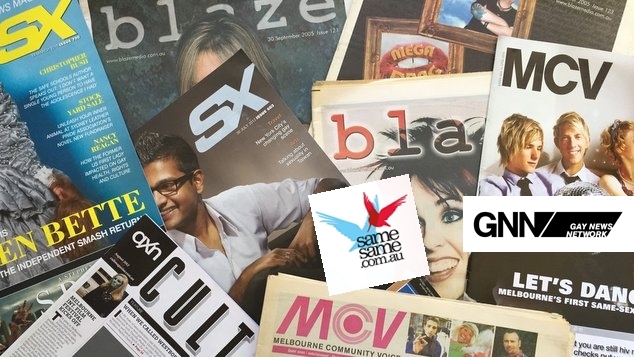 Readers of popular gay news websites samesame.com.au and Gay News Network have been asking what's happened to two of their favourite sources of information after both sites went off-line last week.
When readers head to the pages, a message says the site's accounts have been suspended. The home page for publisher Evo Media displays a similar message.
The Facebook page for samesame has been updated with a new logo and a message saying the sites were offline while some revamping was occurring, but readers posts to the page inquiring about what's happened to the news service and discussion forums have gone unanswered.
There have been suggestions that the company may have collapsed, after a series of emails suggesting staff members were not being paid on time were published online.
A spokesperson for the Fairwork Ombudsman has confirmed that in recent months they have received requests for assistance from several workers in relation to Evo Media Pty Ltd.
"We assisted a number of workers to resolve their disputes with the company. The Fair Work Ombudsman has no current investigation relating to this matter. As no enforcement action has been required, it is not appropriate to comment further on these matters." the spokesperson told OUTinPerth.
The spokesperson highlighted that any employees who are concerned that they have not received the correct wages or entitlements from an employer can obtain free advice and assistance from the Fair Work Ombudsman by visiting www.fairwork.gov.au or calling the Fair Work Infoline on 13 13 94.
Earlier this week, OUTinPerth called the company's Sydney office and spoke to a representative who reiterated that the sites were simply undergoing a re-design. When we asked about the reports online that suggest the company has collapsed, they were dismissed as "fake news".
On Monday we were asked to submit any further questions via email, and were assured they would be answered. So far there has been no response.
Alongside the popular online sites, the company also publishes a range of magazines including Cult, Queensland Pride, SX (New South Wales), MCV (Victoria) and Blaze (South Australia).
The majority of the titles were previously owned by Evolution Publishing which was liquidated in 2013. The new company Evo Media added the website samesame to its stable in 2015. samesame was previously owned by Junkee Media.
Magazine closures in LGBT publishing are becoming increasingly common
Last month German publisher Bruno Gmünder, publisher of the Spartacus Travel Guide filed for bankruptcy. While US based magazines Frontier and Next have also folded. Iconic US publications The Advocate and OUT are both currently on the market.
British publisher Millivres Prowler Ltd, who published Gay Times (GT), also recently filed for bankruptcy. The magazine is continuing on under new ownership.
OUTinPerth briefly ceased operations in 2016 when the company that owned the magazine and website was liquidated. The title was relaunched a week later when the magazine's editorial team, Graeme Watson and Leigh Andrew Hill, purchased the title.
OUTinPerth was able to continue publishing after a significant re-structure of operations and significant community support. To date a crowd-source fundraising campaign has raised $13,300 of the $45,000 required to create a sustainable LGBT media organisation for Western Australia.
Graeme Watson
UPDATE: 12-04-2017 12:47pm Comment from Fair Work Ombudsman added.  15-04-2017 8:06pm The samesame website has been reactivated.