Premier Colin Barnett shows his sense of humour at The Court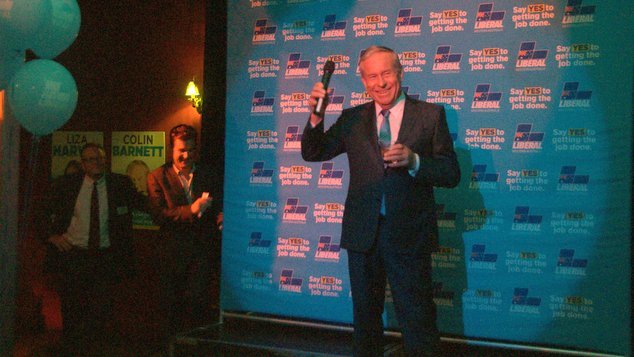 Relaxed and showing his sense of humour, Premier Colin Barnett spoke about his government's achievements during a campaign event at The Court Hotel last night.
The event was organised by members of the LGBTI+ community for Eleni Evangel, the current member for Perth who faces a tough election battle against Labor's John Carey.
Following an introduction that praised the government's infrastructure projects and rejuvenation of the Northbridge precinct, the Premier took to the stage as Starship's We Built This City played.
Singing along to the chorus of the song, with a glass of Scotch in his hand, the Premier joked with the crowd about some of the memorable moments of the state election campaign.
"I know it's politically incorrect to turn up with a Scotch and ice," Premier Barnett said, "but I'm at The Court Hotel and it's that time in the campaign."
"I'm delighted to be here with all those other people who couldn't get tickets to Adele," Barnett joked, "We tried to get The Bay City Rollers and all those other groups but the best we could do was to bring along The Dancing Queen." the Premier said before introducing Deputy Liza Harvey.
Later in the evening Harvey told the crowd that her daughters still hadn't forgiven her for dancing in public at the party's campaign launch a little over a week ago.
Premier says the city has been transformed both physically and culturally
Mr Barnett said the city had changed dramatically during the eight years since he was first elected as Premier.
"It's no longer Dullsville. It's always been a beautiful city, my mother used to say that, when I was a young kid growing up in the '50s and '60s Mum always used to say to me 'Perth is the most beautiful city in the world.'
"I never doubted her until I got to about 20 and realised that Mum had never been outside of Western Australia," the Premier said, receiving rounds of laughter from the crowd.
"We're all aware of the physical changes like Elizabeth Quay and the Stadium, sinking the rail line which will just enliven Northbridge even more. I think those changes are very evident."
Premier Barnett said he was very excited about the soon to be revealed Yagan Square development.
"Not only is that going to give a big central square, it will be the first obvious recognition and respect to the original aboriginal people who were here at the time of the first European settlement in 1829, and that is long, long, overdue and it is important."
During his speech the Premier said the changes in the city were not just but physical ones but there also been a revival in the arts via events like the Perth International Arts Festival and Fringe World.
The Premier said when he was first elected eight years ago he had made himself some very "heartfelt" personal commitments. He listed being pro-development, creating exciting careers and opportunities as the traditional Liberal values he was committed to.
"I also said that we would be a caring and compassionate government, we would look after those people who, for whatever reason, lives were difficult." Barnett said noting that he felt that his government did not receive enough recognition for work in the areas of disability, mental health, and child protection.
"Nobody likes to talk about that, because that doesn't meet the stereotypical image of a Liberal government." Barnett said.
As the state election campaign enters it home stretch the Premier said he was worried that people will not make a good choice on polling day.
"My fear is that people might make a choice, and they might make a poor choice. They simply may opt for mediocrity – and I don't mean that in a personal way about my opponent – but they simply may go for mediocrity and miss the opportunity that lies ahead in this state, and I think that would be incredibly sad." Barnett said.
Perth MLA Eleni Evangel praised
Praising local member Eleni Evangel, Barnett said she had been a great advocate for the diverse community that lives and works in the seat of Perth.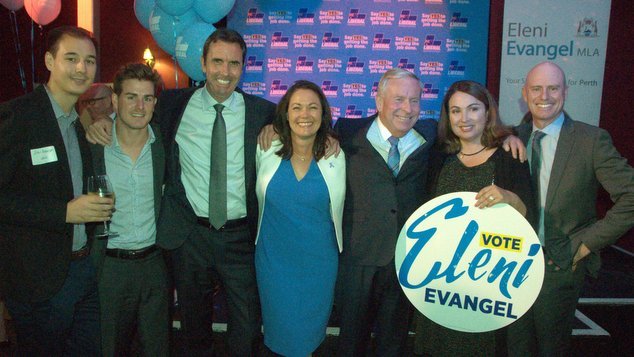 Deputy leader and Police Minister, Liza Harvey said Evangel was a hard working local member.
"She's dragged me out to every single school crossing in her electorate. I've been to every intersection where a hoon might have gone around the corner at 45km an hour, instead of the 40 it is in every other suburb." Harvey said.
Evangel was described as a local MP who was engaged on road safety, anti social behaviour issues and crime. Liza Harvey said every Minister would agree that Evangel is a local MP who "bangs on your door" until she gets answers to a problem.
Speaking to supporters Evangel said she was proud of what the government had achieved since she made the move from being a City of Perth Councillor to representing the Perth electorate.
Evangel highlighted continuing to tackle the challenge of homelessness as a priority for the next term of government.
The outspoken politician said she appreciated her party's commitment to listening to a diverse range of opinions admitting that there were several topics on which she disagreed with the Premier.
During her speech Evangel noted local government reforms as an area of disagreement, but she's previously distanced herself from the party's One Nation preference deal and spoken about her support for marriage equality.
Evangel acknowledged that her seat has a tight margin but said she was committed to door knocking, campaigning and representing constituents.
"We will not give up, we will keep on fighting, we've got a fantastic story to tell and I'm enthused every single day by the beautiful, positive and wonderful comments that I hear."
Graeme Watson