Pride Celebrates in the Daylight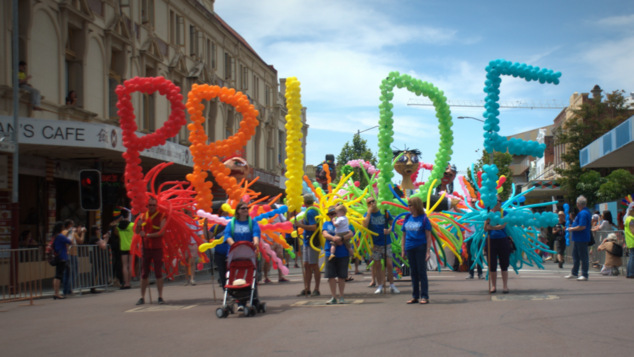 Western Australia's Pridefest began on Saturday afternoon with the annual parade moving from it's traditional night time display to a family friendly lunch time event.
The parade featured two giant bride grooms and brides – paired up with their same sex partners for a wedding and a giant declaration of Pride created out of balloons.
Overall there were over thirty floats ranging from a giant birthday cake for the Gay and Lesbian singers, who are celebrating their 20th anniversary to a giant reminder to the LGBTI community to remember to 'test regularly' from the WA AIDS Council. The Greens WA ventured down the street with a giant Phoenix – possibly making comment on their recent election turnaround.
The parade started in it's usual manner with the Dykes on Bikes leading the parade. Amongst the participants were the colourful Eco-Faeries, the Roller Derby, the drum banging Sambanistas, mental health organisation Beyond Blue and HeadSpace, radio station Nova and the community group Jews With Pride.
The Parade begins three weeks of festivities including theatre, performances, a film festival, and a range of community events.
Photo Galleries
OIP Staff