Pride & Politics: PICYS youth and Senator Louise Pratt talk LGBTIQ issues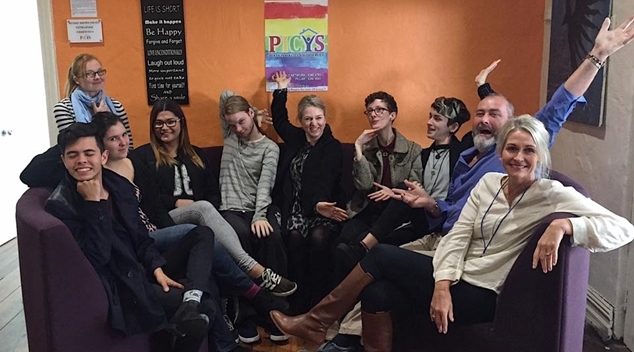 The 17th of May marked a massive milestone in the LGBTI movement with it being International Day Against Homophobia, Biphobia and Transphobia. One of Perth's LGBTI friendly youth mental health organisations, Perth Inner City Youth Services (PICYS), coincided with the world of politics by convening a meeting with Labor Senator and LGBTI activist, Louise Pratt, to discuss the difficulties and struggles mental health consumers and the LGBTI community still struggle with in the twenty first century.
The meeting with Senator Louise Pratt centered around life experiences and hardships often faced by young LGBTI people including non-acceptance amongst their families and friends, loneliness in schools, stigma and being shunned in public, discrimination in gaining and maintaining employment, difficulties experienced with Centrelink assessment and support, and homelessness, all which can have a negative impact on their mental health.  
At PICYS, many of the young people who attend and engage in activities and individualised support plans are LGBTI. In the last year the LGBTI representation amongst young people actively engaged with PICYS was one in every three young people.
A significant common talking point amongst the young people who spoke with Senator Pratt was the discrimination the young people experience in their everyday life and in all settings. "I do know there is help, but there's not enough", one young person said highlighting that differences and difficulties LGBTI people face are still wildly unrecognised and misunderstood by the wider community.  
Some of the stories the young people shared with Senator Louise Pratt revealed that discrimination in mental health and against LGBTI people still exists in workplaces today. Many young people are unaware of their human rights and are turned away from employment for being part of the LGBTI community or having mental illnesses.
Some young people expressed their disgust about inappropriate questions they've been asked by employers regarding their sexuality. The young people expressed that often they felt under additional stress which can lead to greater risks of homelessness and drug use.
Homelessness puts lives at risk and exposes those suffering to a greater risk of drugs, illness and a variety of mental health issues. One of the predominant demographics of the homelessness crisis are members of the LGBTI community.  
It has been reported LGBTI people who are rejected or experience discrimination or stigma at home have an increased risk of homelessness and significantly increased risk of suicide, self harm, and substance abuse compared to those of non-diverse gender and sexuality counterparts.  The meeting participants discussed how these issues need to be addressed to make Perth a mentally happier and healthier city.
With discrimination still prevalent in Perth, there are very few places where people suffering from mental health issues as well as a person of LGBTI background can feel safe. But it's the values upholding PICYS which attracts young people to PICYS and gives them a home, it's both warming and welcoming, where everyone is accepted regardless of their gender or, sexual preference,  or mental illness you may have.
A young person expressed that PICYS is one of the few places she feels she can embrace her identity and be her true self. There are a variety of mental health organisations and supports that have shed light on the growing mental health issue, but for many clients that stigmatisation makes accessing these supports a challenge in itself, with one young person expressing that "I'm thankful for the help I'm getting, but I wouldn't have been able to do it without PICYS."  
Everyone needs safe relationships and places where they can escape the busyness and demands of life and feel accepted, appreciated and celebrated.
Although the fight for acceptance in both the fields of mental health and LGBTI issues is getting recognised and addressed a great deal, there is still a long way to go.  The young people who met with Senator Pratt were pleased to know there were advocates  in Parliament that understand their experiences and willing to speak up for the rights and wellbeing of all people.
Perth Inner City Youth Service thanks Senator Louise Pratt for visiting our agency and spending time with the young people.
For information about Perth Inner City Youth Service please visit their website at www.picys.org.au or contact them on 9388 2791.
Joshua Walker
PICYS Volunteer Student
Image provided by PICYS