PrideFEST Today: Saturday November 15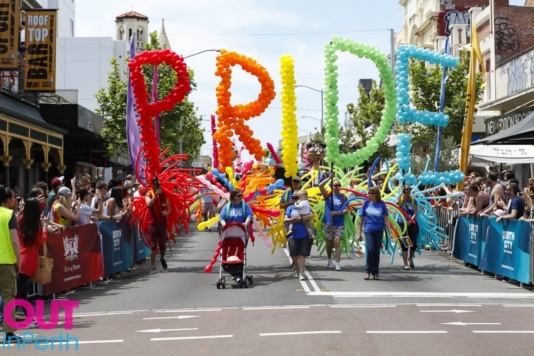 PrideFEST is underway and there's a heap of things to get involved in today. Reflect renew and Rejoice!
PrideFEST Village Breakfast presented with GRAI
head down to Russell Square between 9am and 12pm for a community breakfast, bring your breakfast and a picnic rug.
Beaufort Street Festival
Perth's biggest street festival transforms Mount Lawley. There's so much food, entertainment, craft, craziness, music, performance and more food. It begins at 12:00pm and runs through to 8:00pm. Catch public transport of you can, parking is a nightmare.
Freedom Centre Open Day
See what's been going on at Perth's amazing youth centre for LGBTIQETC people. The centre is open to everyone from 12:00pm to 5:00pm.
GALSWA Best of Broadway PICK OF THE DAY
Their show during Pride last year was sensational. Join the Gay and Lesbian Singers of WA as they perform songs from Broadway at The Fly By Night Club in Fremantle. The show starts at 7:00pm.
Over the Rainbow: Ali Bodycoat and Libby Hammer
Jazz divas Libby Hammer and Ali Bodycoat perform unique interpretations of the world's favourite gay anthems.
PrideFEST Micro Film Festival
Catch Alex Boh's short film 'Half' on the big screen in the cultural centre. The 6min short will screen at 12pm and midnight.
Conversations with the Dead
WA Academy of Performing Arts Aboriginal Theatre program present Richard Franklin's play 'Conversations with the Dead'. It's on at 7:30pm at The Geff Gibbs Theatre at ECU, Mount Lawley.
The Big Hoo Haa!
Lazy Susan's Comedy Den above the Brisbane Hotel is the home of the Big Hoo Haa! Improvisational comedy performance at it's best. The show kicks off at 8:00pm
Joey the Mechanical Boy
Head down to the Blue Room at 7:00pm to see this show about a little boy who wants to be a robot when he grows up.
Sordid Lives
Playlovers present a black comedy about white trash. It's on at Hackett Hall on Draper Street in Floreat and starts at 8pm.
Those Who Fall in Love Like Anchors Dropped Upon the Ocean Floor
This fabulous theatrical production stars Renne Newman Storen, Jo Morris and Ben Mortley. Catch it at the Blue Room in the Perth Cultural Centre, it's on at 8:30pm.
Guess Who's Coming to Dinner?
Head to ECU's Roundhouse Theatre at 7:30pm for this show that looks into celebrities and their musical tastes.
Articulating Landscapes II
The Ochre Contempory Dance Company present works based around the texts of Western Australian authors. The shows on the Masonic Lodge Hall on Broadway in Nedlands. it starts at 7:00pm.
Australian Design: Ten Years of the Peter Fogarty Fund
Delve into the world of craft at the WA Art Gallery, the exhibitions open from 9:00am to 5:00pm
True Self: David Rosetsky Selected Works
Check out the beautiful creations of video artist David Rosetsky at the Perth Institute of Contemporary Art, it's in the Cultural Centre and open from 10:00am to 5:00pm today.